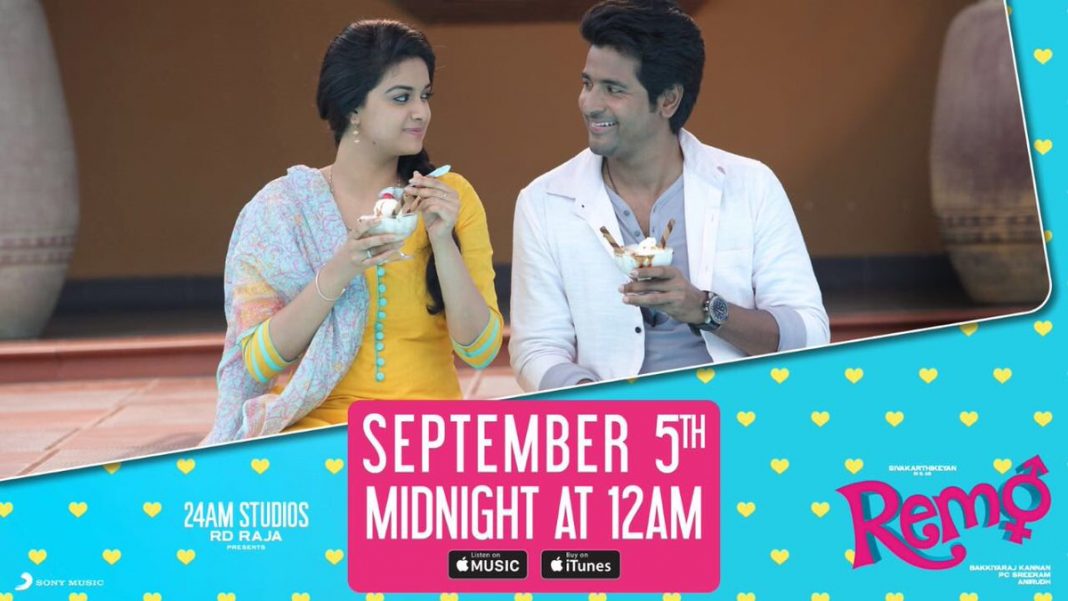 Remo is upcoming big budget release for Sivakarthikeyan by the debutant director Bakiaraj Kannan and debutant producer R.D.Raja of 24 AM Studios. Remo has beeen making news ever since the first look of the movie released, thanks to the debutant producer has got a stock of creative ideas for promotion.
One another reason for the Remo hype is all the top notch technicians of the industry has been roped in for the movie.
The musical hit combo Sivakarthikeyan and Anirudh is back again with this film and Keerthi Suresh is all set to romance the star again after superhit Rajinimurugan.
Now, as a next step for the promotion the makers of the movie have announced the date for the release of the musical album and the musical videos associated with the movie. The team have already released three singles from the movie, and a musical video as well.
As per the announcement from the production house, the Remo album will hit the digital stores like iTunes on September 5th by 12 AM.
The lyrical videos for the songs as well a musical video for the song "Come closer " will be released by 5 pm on September 5th through YouTube. "Come Closer" is the english version of the single Sirikaadhey.