Dhanush has been giving hints on twitter since November 3 on a mass announcement that he was about to make. Later, the very next day he again announced that the final stages of discussion are going on and thanked us for our patience. Well we were patient indeed to know what the exciting announcement could be.
Dhanush has his plate so full that it is difficult to speculate what kind of announcement it could be. Dhanush- Gautam Menon project "Ennai Nokki Paayum Thotta" is nearing completion, Dhanush- Karthik Subburaj project is in its pre-production stage, Dhanush directorial Power Pandi were still on cards too and the shooting for Hollywood project that Dhanush is on is yet to begin as well. Analysts speculated that the mass announcement would be on any of these projects, little did they know what was coming for them.
Announcement will happen tom morning 9:10 am .. super excited and thrilled.

— Dhanush (@dhanushkraja) November 8, 2016
Discussion in final stages. Will make the announcement on Wednesday. Thank you for the patience. https://t.co/cZpBFaoloC

— Dhanush (@dhanushkraja) November 4, 2016
Finally around 9 AM today, the actor cum director decided to break the silence and made the announcement in the form of a video. He published the video in his twitter page and the response was HUGE. The video announces the collaboration of V creations headed by Kalaipuli S Thanu and Dhanush's very own Wunderbar Films to produce "Velai Illa Pattadhari2", a sequel to the 2014 Hit film.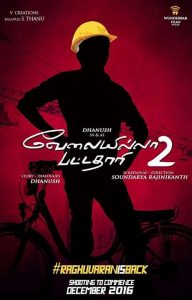 The Video also tells us that the story and dialogues of this movie would be taken care by Dhanush himself while the screenplay and direction has been credited for Soundarya Rajinikanth. The video played the infamous theme from VIP in background which was composed by Anirudh. Although the video did not mention anything about the music director, two music directors Anirudh and Sean Roldan has been credited in the tweet.
Sean Roldan is known for his music in Mundaasupatti and Vaayai Moodi Pesavum, and he is the music director signed for Dhanush's directorial debut Power Paandi.
#D33 bless us @soundaryaarajni @theVcreations @RSeanRoldan @anirudhofficial #bilingual Tamil and Telugu. pic.twitter.com/5ZBtCOfmrY

— Dhanush (@dhanushkraja) November 9, 2016

The video winds up with the information that the movie will go on floors from December 2016 and with the hashtag that says "Raghuvaran is back". Who could forget Raghuvaran the unemployed engineering graduate whose only wish in life is to take up a job as Civil Engineer because that what he graduated for. VIP2 is all set to hit again with a bang.