One of the most sought after villain in Tamil Film industry who sent chills down the spine with his performance as Amudhan is back in town as a villain opposite Udhayanidhi Stalin in the movie 'Ippadai Vellum'. Daniel Balaji opens up to GethuCinema about his role in Ippadai Vellum, Bairavaa,  Vada Chennai, Maayavan, and also gives insights to many other interesting trivia in his career. Read on for his conversation with Vignesh Raghav for Gethu Cinema ahead of the release of 'Ippadai Vellum'.
For a man who has been very choosy about his scripts, it is interesting to hear that he doesn't take the success of a movie or the reach of his character to his head. He accepts the recognition when he gets it and is not worried if the movie doesn't work well or if its release gets delayed. He said, "I play a character, a part or a villain. My concentration will be focused on acting. Producers who produce the movie know when to release the movie and they take better care even if it gets delayed" when questioned about the delay of his upcoming movies like Maayavan, Vidhi Madhi Ultaa.
Daniel Balaji clears air on the upcoming Vanangamudi movie where he was supposed to play the villain opposite Arvind Swamy. He had to drop out of Vanangamudi since the project was preponed and he dint have enough time to prepare for the role.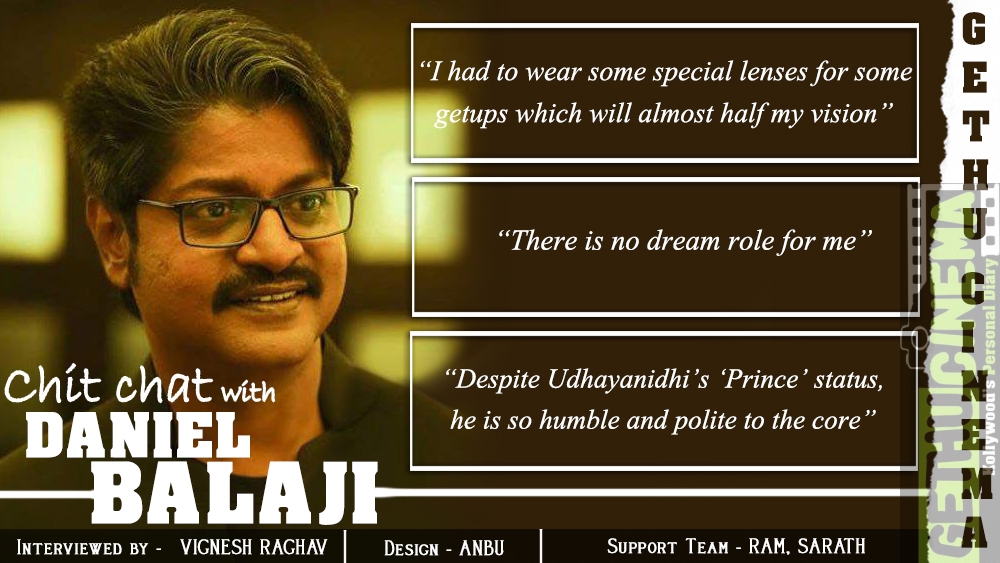 However he was advised by his friends and well wishers that he has already proved his mettle as an actor and its time that he takes up more projects. An advice he took seriously and has signed five movies this year. On the choice of different movies "Vidhi Madhi Ultaa is a comedy movie and the entire crew are my friends. Since the movie falls in a completely different genre from the other projects, I chose it"
Talking about Maayavan, he said, "Maayavan is a science fiction movie. After an experiment a person will transform completely. He will be portrayed in a different role. I wanted to see how it comes up and I took up the character"
When asked how interesting his character is in Vada Chennai he says,
"Vada Chennai is a very big movie. If you have watched VetriMaaran's Aadukalam, Polladhavan and Visaranai, you will know how realistic the movie will be.  I was asked to choose among a list of villains. VetriMaaran felt that 'Thambi Annan' will suit me as it has some emotional quotient apart from the villain dimension. The character evolves through the course of the movie and it's coming up good. "
It is evident from the conversation with him that he doesn't shy away from taking up challenging roles or trying new genres/ or even languages. Daniel Balaji has tried his hand at all the major South Indian languages and has even starred opposite Mammooty, Kamal Haasan and Mohanlal.
Ask him how his performance was received in Malayalam after starring opposite the likes of Mammooty and Mohanlal, he says
"I gave a similar performance in a Malayalam movie too and the reception was similar too or even a bit higher. I witnessed the grand reception six months after my movie was released, when I had to attend to attend a function in Kerala. It started right after I set foot in the station when someone came up to me (after eyeing me for some time) and asked 'If I was 'that' guy?' I replied, yes and what followed were series of praises from the people there for my performance. I appear in four scenes in the movie (Black – 2004) and I barely spoke a few lines. 'I can feel the pain when you were reacting' they said. I get beaten up by the police and all I had to do was shout in pain.
You have a strong voice they said. They also asked why I was not doing more movies. I did a series of films after that time within which the industry felt I have absconded from Tamil movies. The truth is I am always there for the movies, no matter the language."
"I learnt proper prompting from the stalwarts of Malayalam. When I had to do scenes with lengthy dialogues, they asked if I have any trouble with the language. I replied no, and that I hear only sound instead of a dialogue and I learn the meaning from AD's and fine tune the same in dubbing. They then taught proper prompting during performance unlike the one which we use in TV Serials.", he added up.
Talking about his co-star of 'Ippadai Vellum' Udhayanidhi Stalin, the actor said he is a very cool person and polite to the core. "I have some friends from DMK and I know that 'Udhayanidhi Stalin'is a prince to them. Despite his status he is so humble and speaks without any aura of a prince. We chat happily in the sets even while the technical team breaks their head with the problems they have from the sets. He is polite to the core to everybody."
Unwilling to break the suspense of his character from 'Ippadai Vellum' he however gave insights into what we can expect from his role in the movie. He plays an accused who is being searched throughout India. He says "When an accused of that caliber moves from place to place and gets away with it has to be convincing and hence the different getups.The efforts had to be there to show the audience the change. I had to cut my hair short or even shave my head, wear special lenses that will restrict my vision to two dimensions. "
Ippadai Vellum is directed by Gaurav Narayanan of 'Sigaram Thodu' fame. Gaurav seemed to have written a strong role for Daniel Balaji  He also shared how difficult it was to get into the shoes of the character, he said "I had to wear some special lenses for some getups which will half my vision. I will not be able sense any hindrance on the path after wearing the lenses. I had to learn my path beforehand and then walk with the lenses."
He also made it clear that the much hyped about 5 minutes uncut shot is not shot for the sake of trying. "For an accused who is feared throughout the country, the shot is required to lay ground to the things that the villain could pull off no matter what. Apart from the buildups and the change of getups, the shot had to be there as an explanation to the audience."
When asked if he has any particular dream role or character that he is waiting for he laughs and adds up, "I dont have any particular dream role. Every character or role has been explored in the 100 years of Cinema. It ultimately depends on how different we do the roles that comes to us. Every permutation and combination of a story has been tried and it ultimately depends on how we present it to the audience. Psych thrillers are some genres that are not highly explored, where each character thinks and acts differently. If the change is not convincing enough we will be branded that we have copied from someone else"
Balaji reiterates that an emotional quotient has been present in most of his characters he has portrayed starting from 'Kaakha Kaakha' to 'Bairavaa'. He remembered the scene in Kaakha Kaakha where he breaks up after learning his wifes death and shoots himself. "I was offered the role in the movie Bairavaa, because they said they needed an actor to emote well in a couple of scenes. The couple of scenes and the emotions were important to convince the audience that despite the bad character, there is some emotion left in him"
Apart from acting in negative shades, Daniel Balaji is also being careful that no wrong message is sent out through his movies. "I also care about how my characters are being absorbed among the public. If there is a movie where the villain is glorified for all the wrong reasons, I might not accept the movie. I will not accept the movie if a character has too much villainism. I need to answer myself if the glorification of the villain is justifiable. If the story tends to send a wrong message among the audience I shall not choose the script no matter how perfect it is."
Talking about how active he is on social media, he says, "I am active in both Facebook and Twitter. I do my promotions for the movie and also keep in track of the messages I receive. There are lot of fake accounts in my name. My original account exists as one among them. But my friends know what my real account is. I don't post any controversial stuff and I don't post my social work as I don't believe in self publicity."
Short film directors and VisCom students even approach him through social media to discuss his take on their films. "I warn them beforehand that my reviews will be harsh but I feel happier if they take up my criticism and come back to me again with another movie." he says.