REVIEW OVERVIEW

Velaikkaran

SUMMARY

An attempted thriller that decides to bank on the social message that it carries. Lack of emotional depth in scenes takes us away from the movie. A bold attempt indeed.
Sivakarthikeyan has decided to come out of his comfort zone with Velaikkaaran. He has given his humour sense and comic timing for a toss and has ventured to tap his commercial value for a good cause. When I say tapping the commercial value, he is not in here to make money with his fame instead he is here to instill social messages in the minds of his hard core fans.
Personally we witnessed his victory in the theatres. For the very first show the packed house decided to show support to their star,  flashed their phones for an important scene towards the climax.
It is sheer audacity from Director Mohan Raja to make a completely dialogue driven movie with Sivakarthikeyan and Nayanthara in the lead. Rather than the well packed content the message drives the movie.
It seems like the director seems to be impressed with his research for the movie that he decided to build a story and a narration around a social message rather than imparting them through the flow of the story.
Velaikkaran is the story of a small time youth (Sivakarthikeyan as Arivazhagan) from one of the Chennai slums who is hell bent on making things right in his locality. He grabs on every opportunity he chances upon. He runs a community radio and finds his happiness in the small things that he does with it. But he is forced to change, he is forced to give up his responsibilities in his locality and take up a job to ease up the financial burden of his family. When he understands that the job he takes questions his own fundamentals, he decides to fight the system in his own way. That's the commercial value I have been talking about.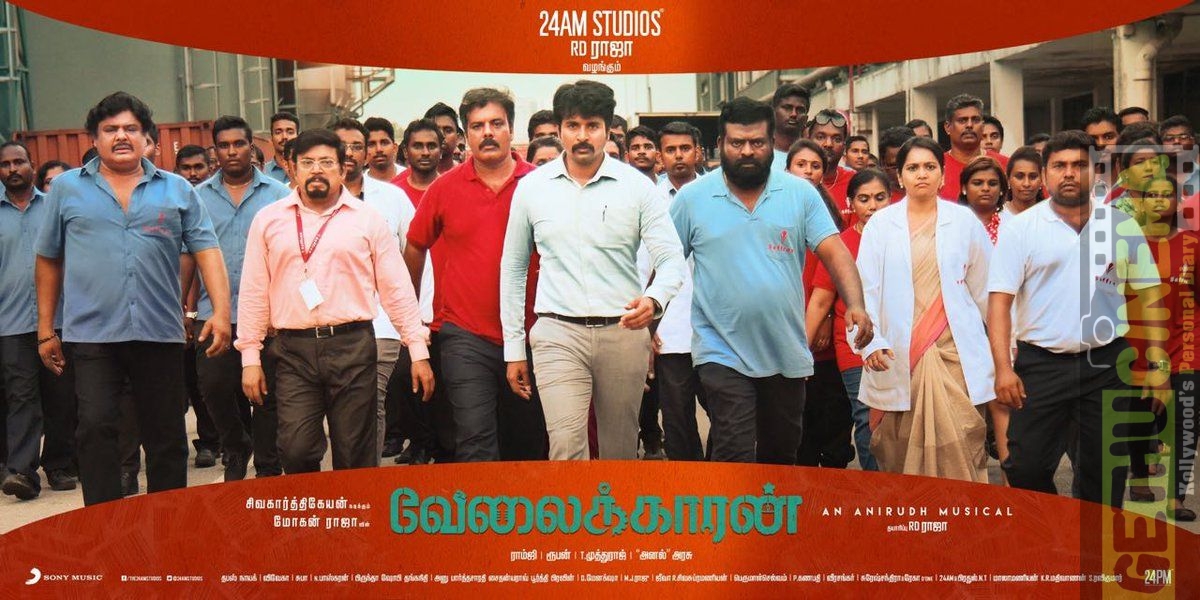 Velaikkaran has got the platform for almost every kind of emotion in its kitty but it rather feels contented with the message that it has decided to broadcast. This impending decision has made the emotions take the back seat in the movie. We could sense a story and we could also sense an attempt at writing a promising screenplay but the depth of emotions that each scene is supposed to carry seems very shallow.
We also sense an attempt at characterization. We see Vijay Vasanth as a fellow slum resident of Sivakarthikeyan, but there is more to him than the black skin. His paan stained teeth also adds up to the detailing that the director has decided to work out. The sense of detailing and the production value looks exceptionally grand.
Had little of these efforts had been spent on direction we would have had another Sivaji may be. The reason Sivaji kind of movies worked out despite the unbelievable screenplay is the nuances in direction that made us emote along with the characters. But in velaikkaaran we don't see the slightest hint of emotion even in the death of one of the important characters. The lack of emotions is so sore that even Anirudh's songs seem lifeless at times.
Fahadh is exceptionally brilliant in the subtle emotions that he could carry out with ease and acting skills of others look pathetic in front of him. Nayanthara and several other actors are wasted in their roles. Anirudh's BGM stands out so much that we are left bewildered to find out what the scene actually holds. His BGM is neither reciprocating what is already there, nor is it amplifying the absent emotion.