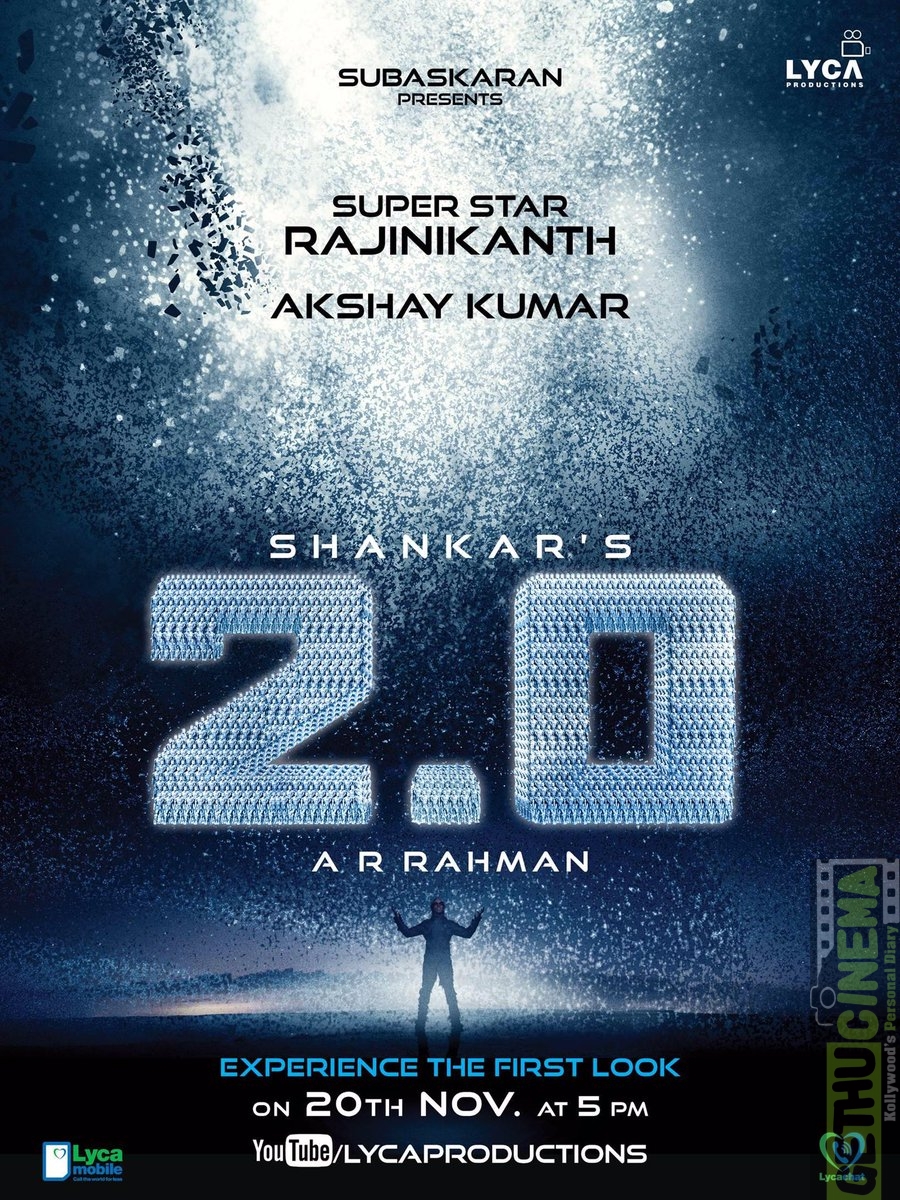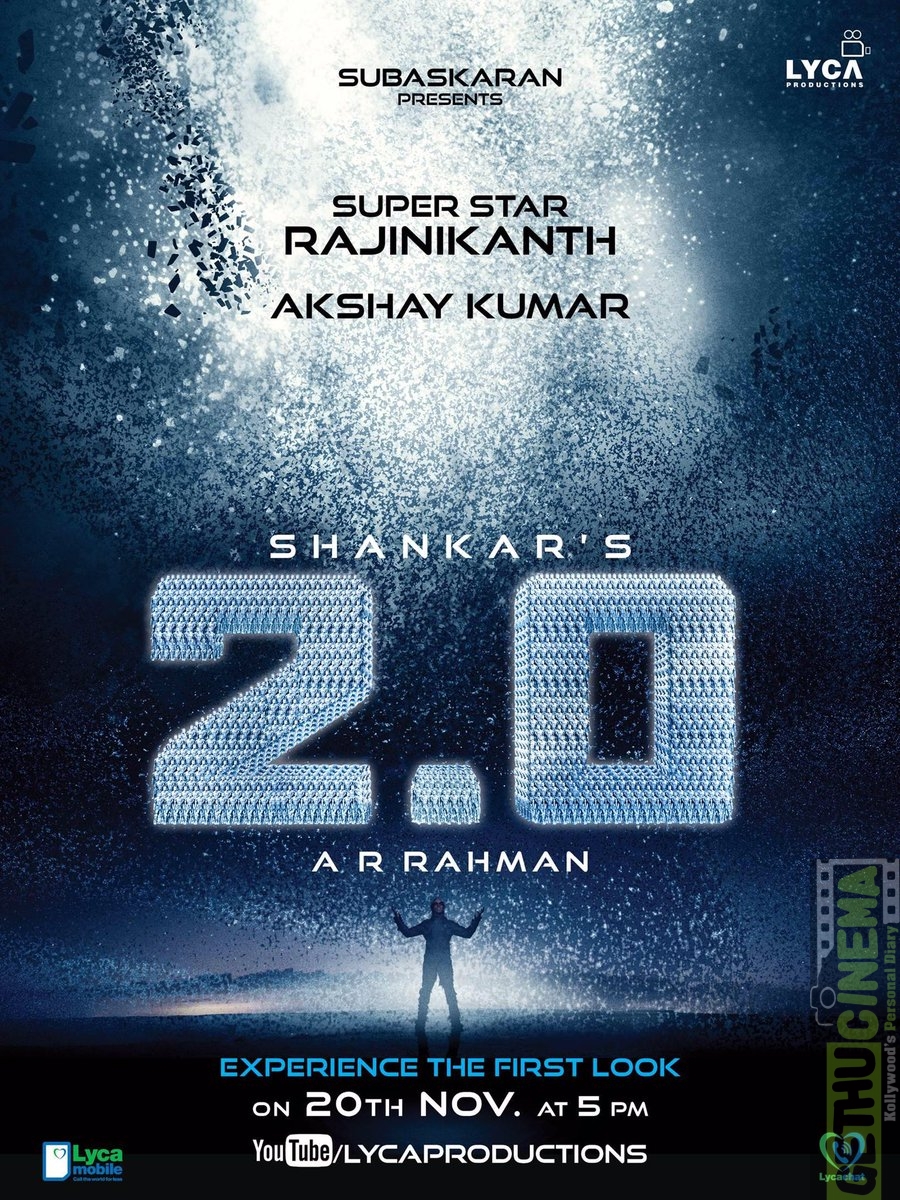 Shankar's Magnum Opus 2.0 is getting ready to launch its first look in a grand event in Mumbai. The event is taking place in the enormous Yash Raj Studios, Mumbai and is to be hosted by Bollywood film maker Karan Johar.
The hero of the film, Super star Rajinikanth and the villain Akshay Kumar along with other dignitaries from Bollywood and Kollywood is expected to join the event.
The event is being telecasted live in Lyca's Youtube channel, and also in other Lyca apps for Android and iOS.
We will update the live happenings in the event here in this link.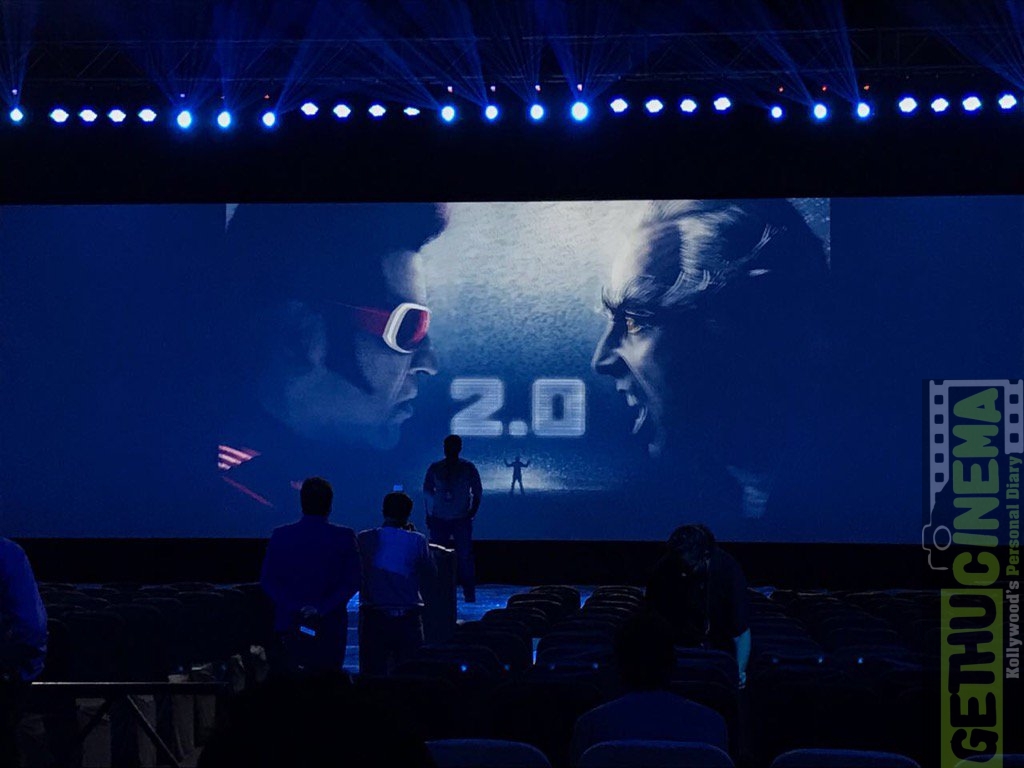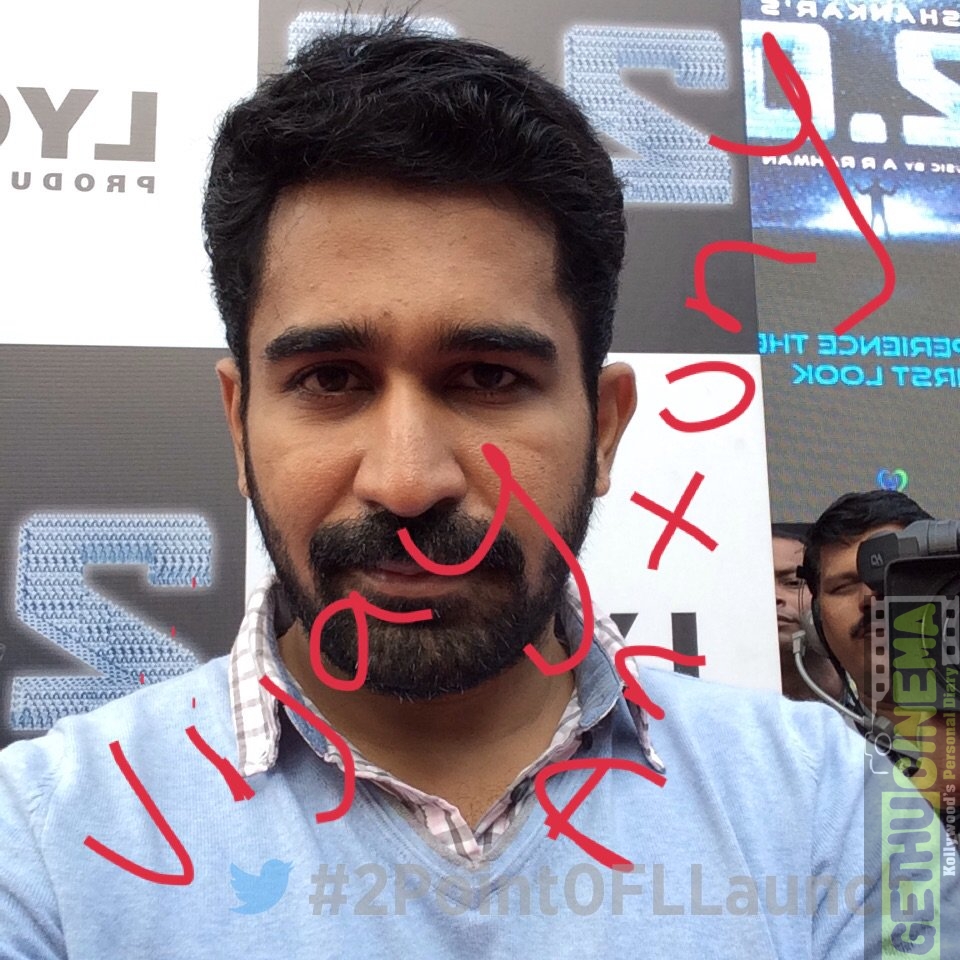 04.35 PM – Vijay Antony is the first celebrity from Kollywood to mark his attendance at the grand event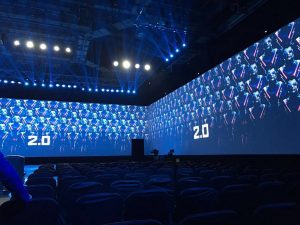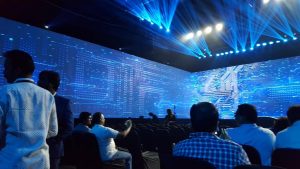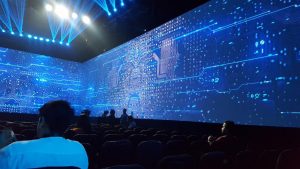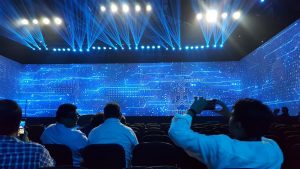 04:45PM – The auditorium is designed in a way with three of its walls will act as 3D Screens. This is the first of its kind in India where the entire event is 3D enabled.
04:50 PM – The man behind the banner , producer of the movie and chairman of Lyca Productions joining the event.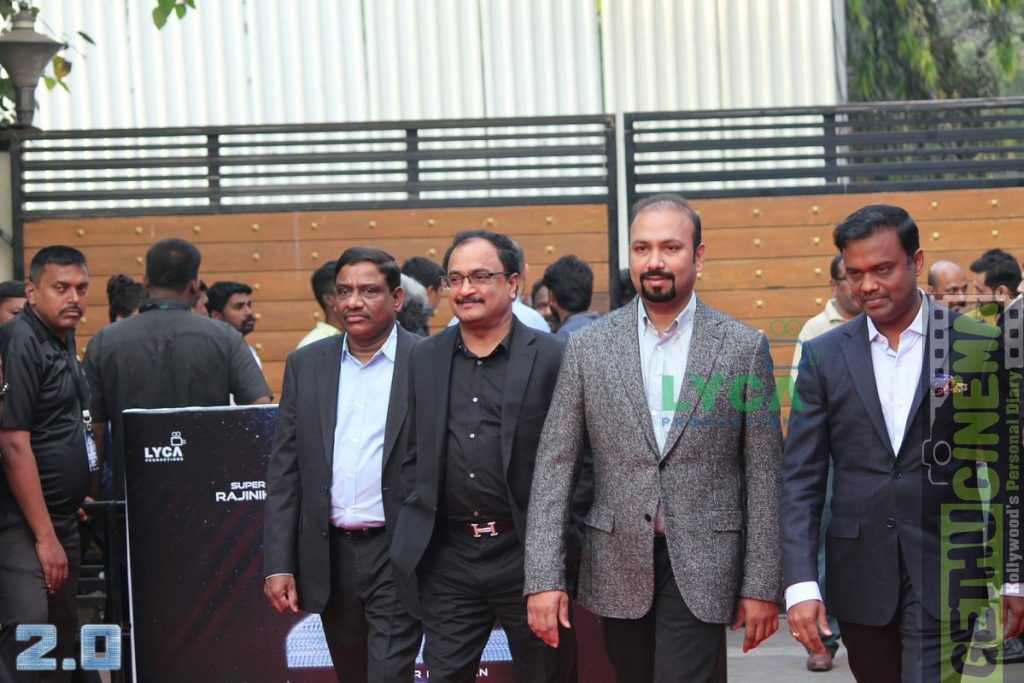 04:55PM –  Art director Muthuraj and Editor Antony make their presence in the event.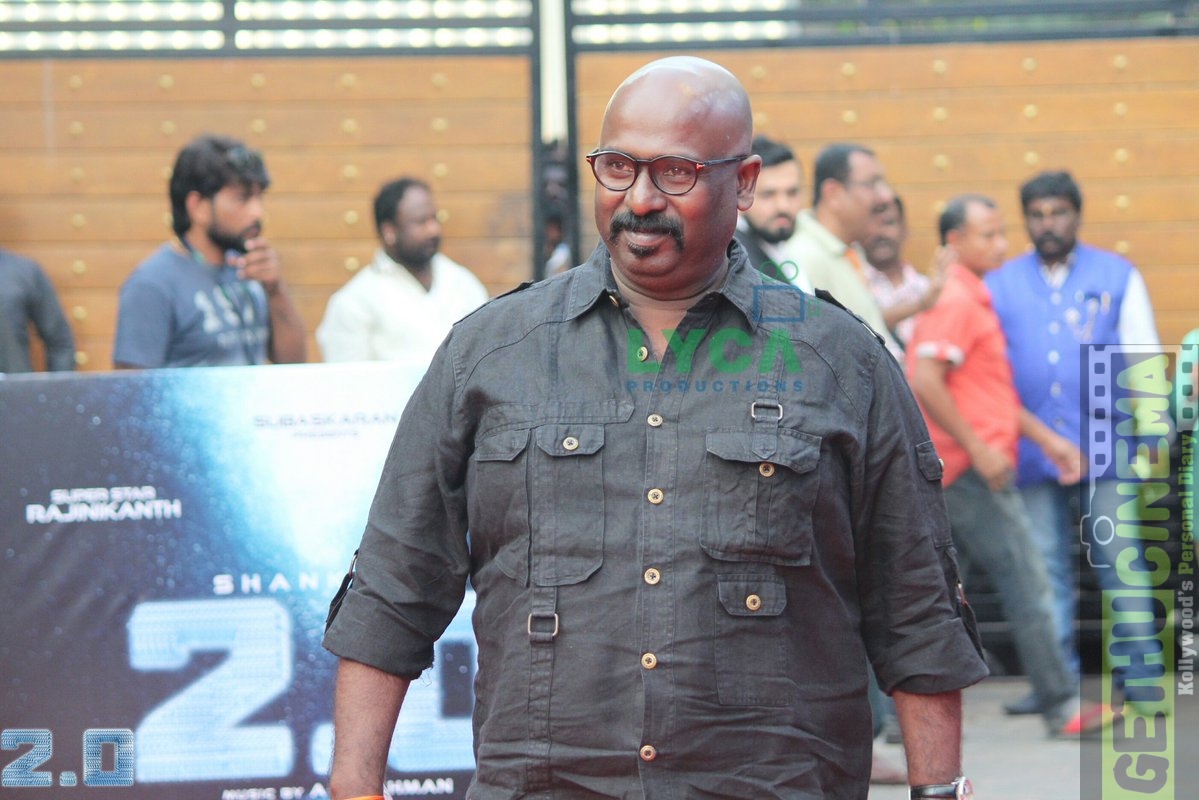 Art Director Muthuraj says, he has grown up with the posters of Rajinikanth and he describes 2.0 in one word as "extravaganza"
05:00 PM – Arya at the red carpet .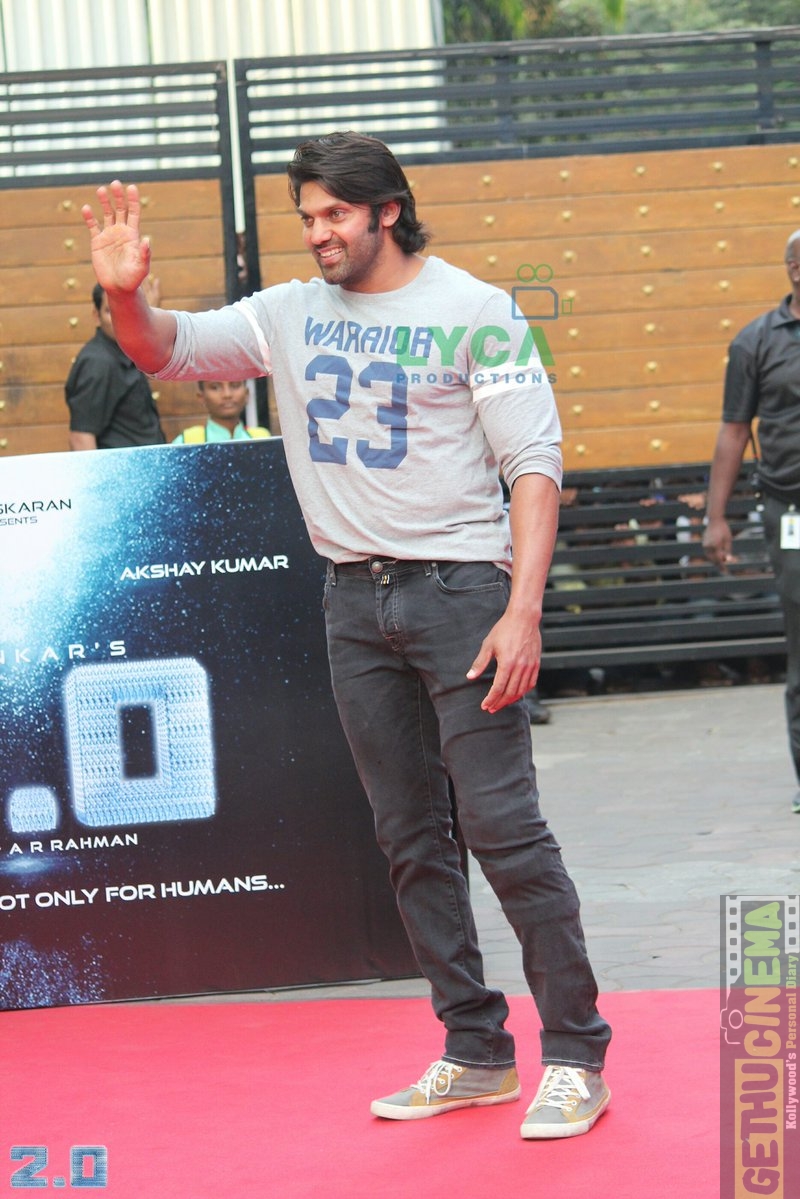 05:00PM – Singer Rupali at the function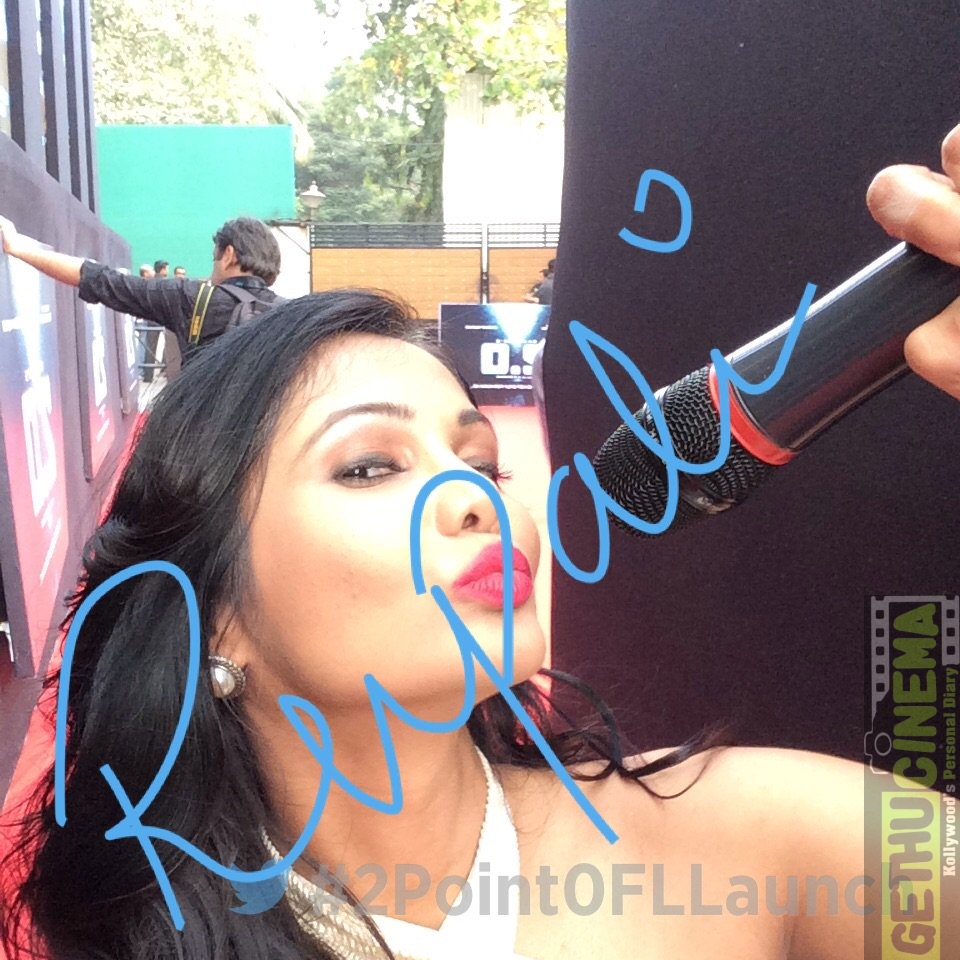 05:00 PM – Most anticipated Akshay Kumar's First look is revealed
05:03 PM : Trivia from the making of the movie is being released.
Akshay Kumar had to undergo 6 Hrs of make up to get the beastly look right. The team thanks the actor for his patience and dedication.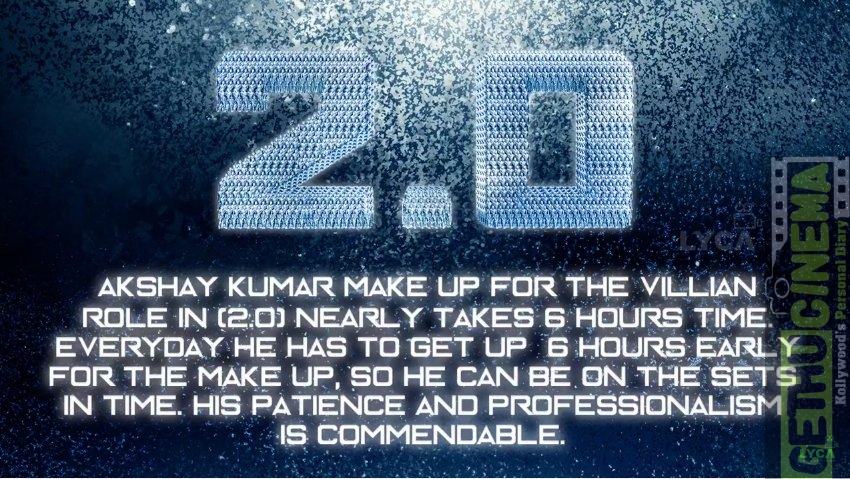 05:05PM – Cinematographer Nirav Shah , Author/Scriptwriter Jayamohan, stunt choreographer Silva grace the occasion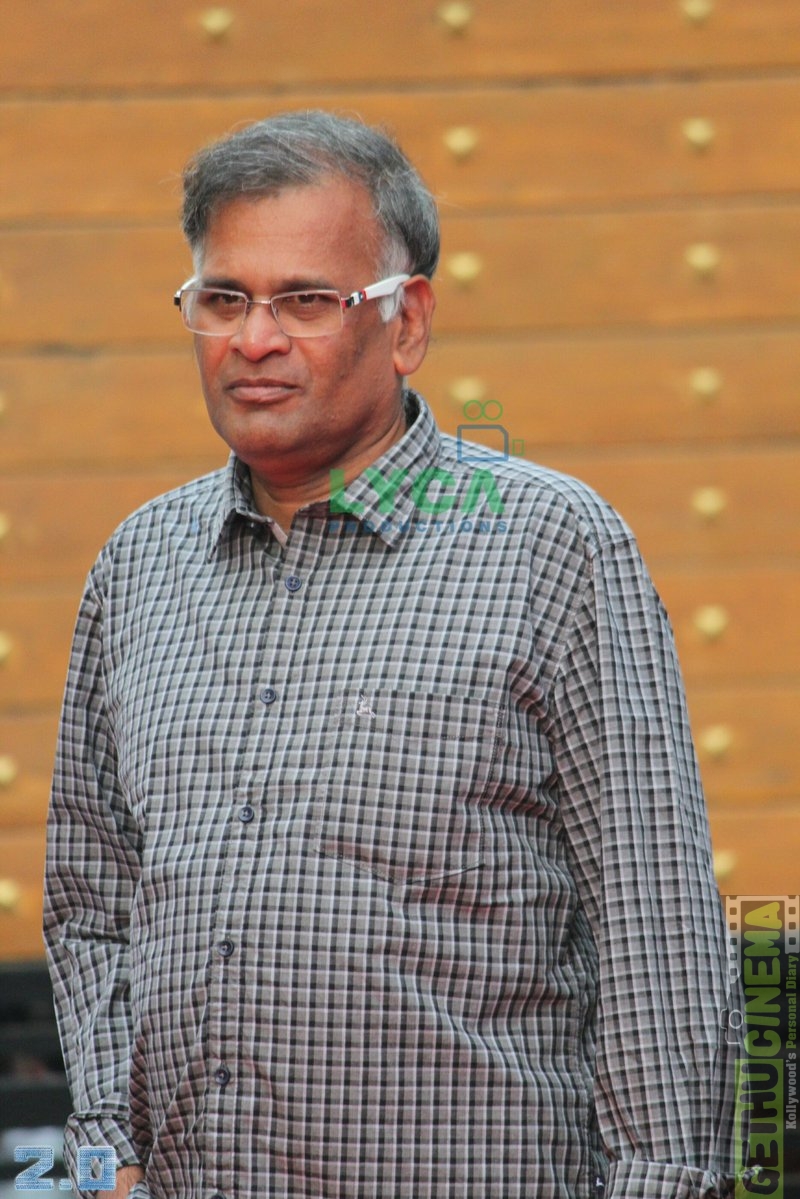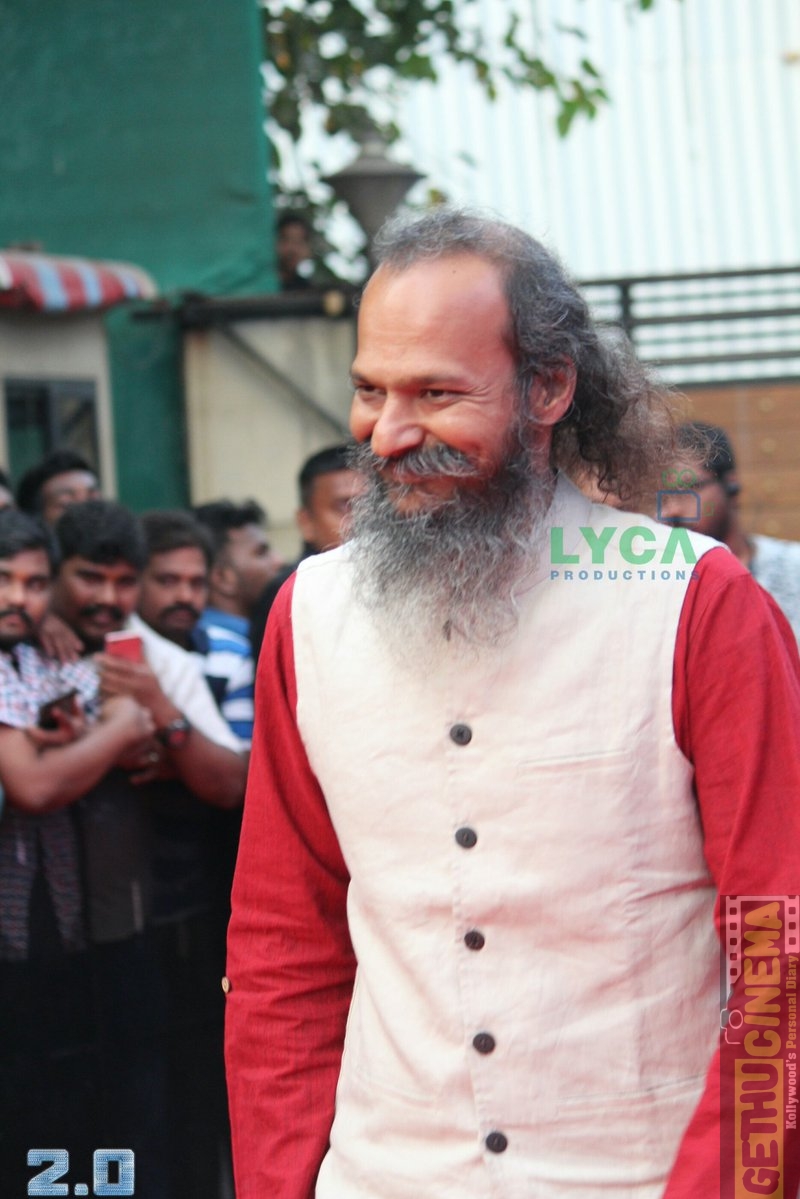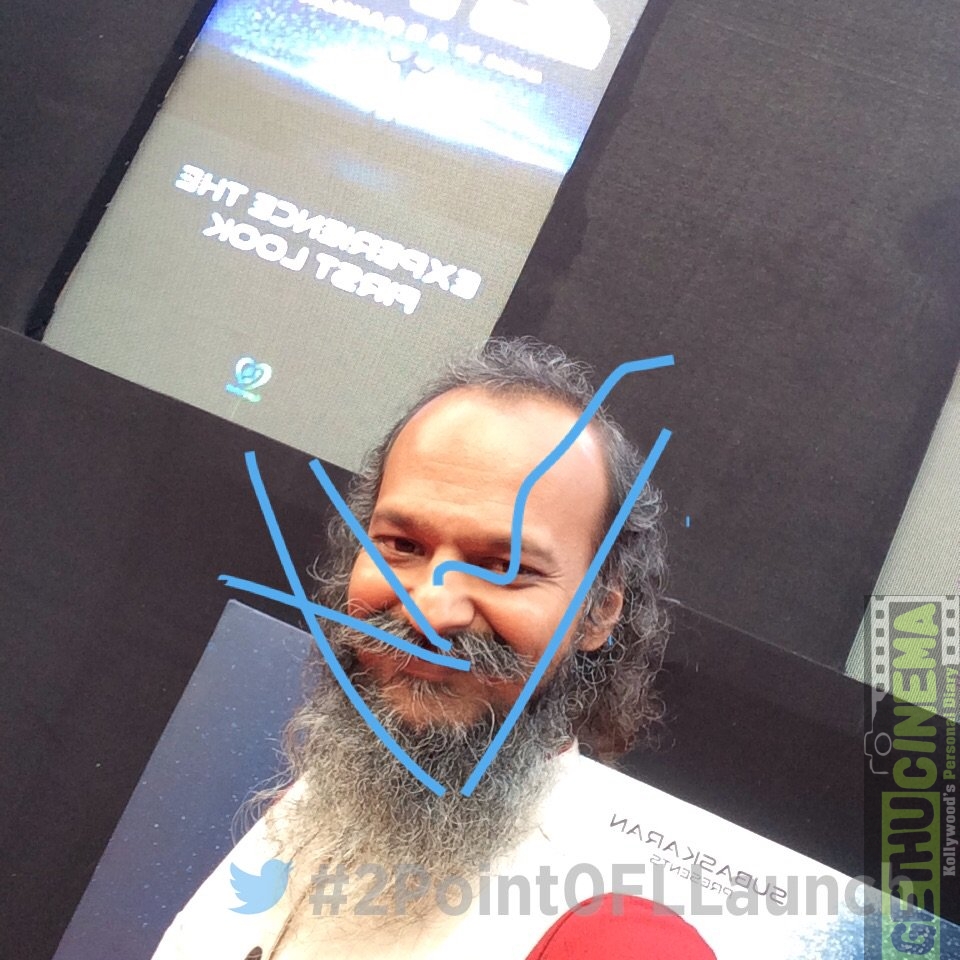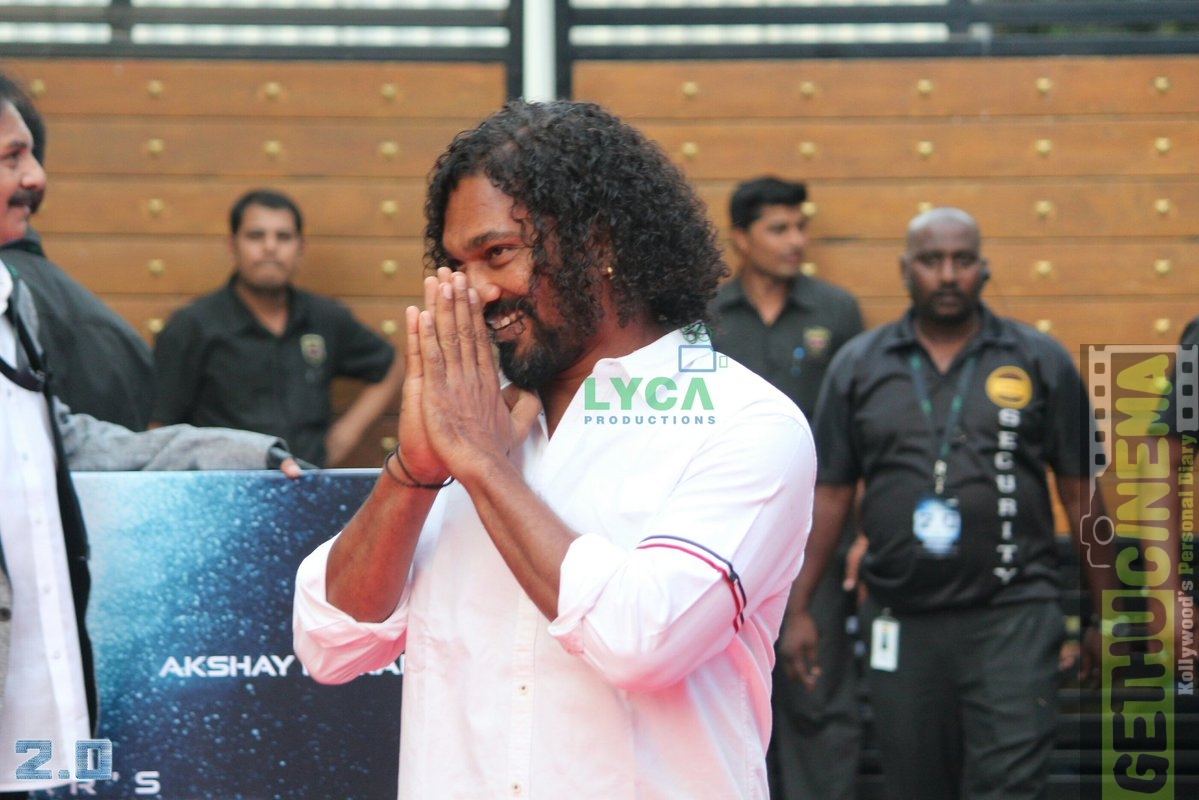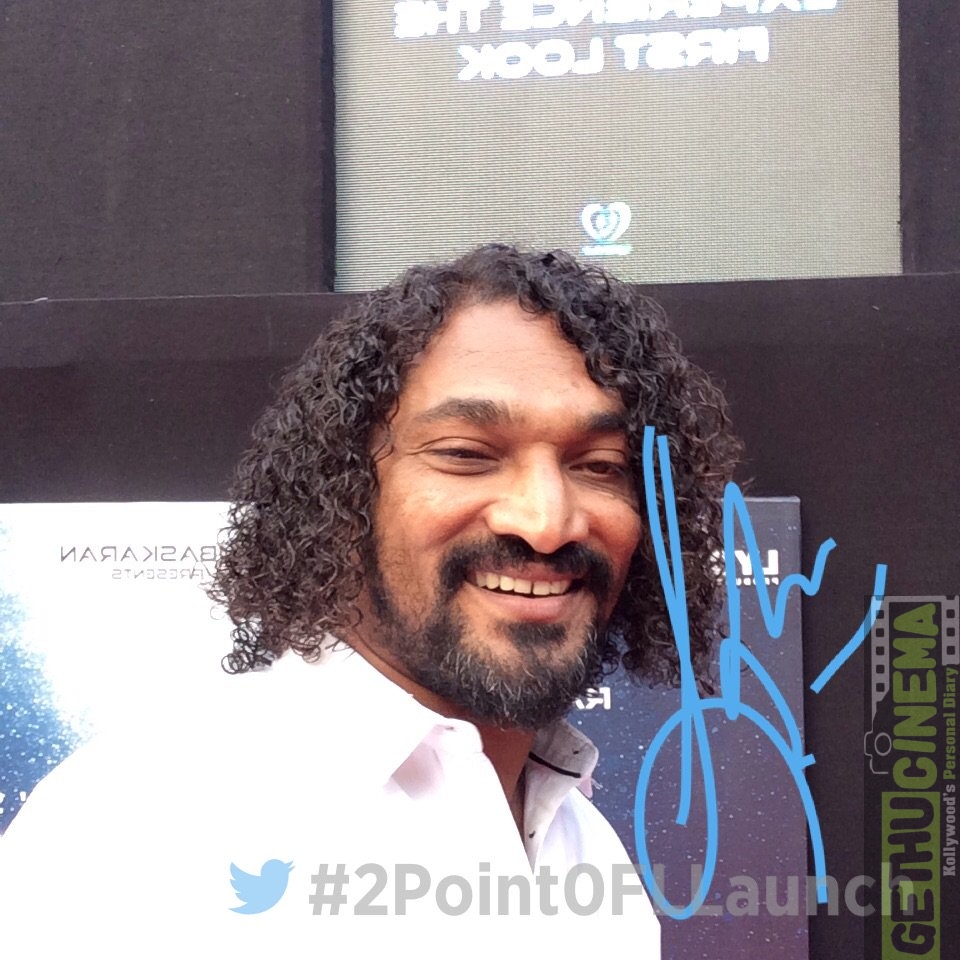 05:16PM : Producers team decorating the red carpet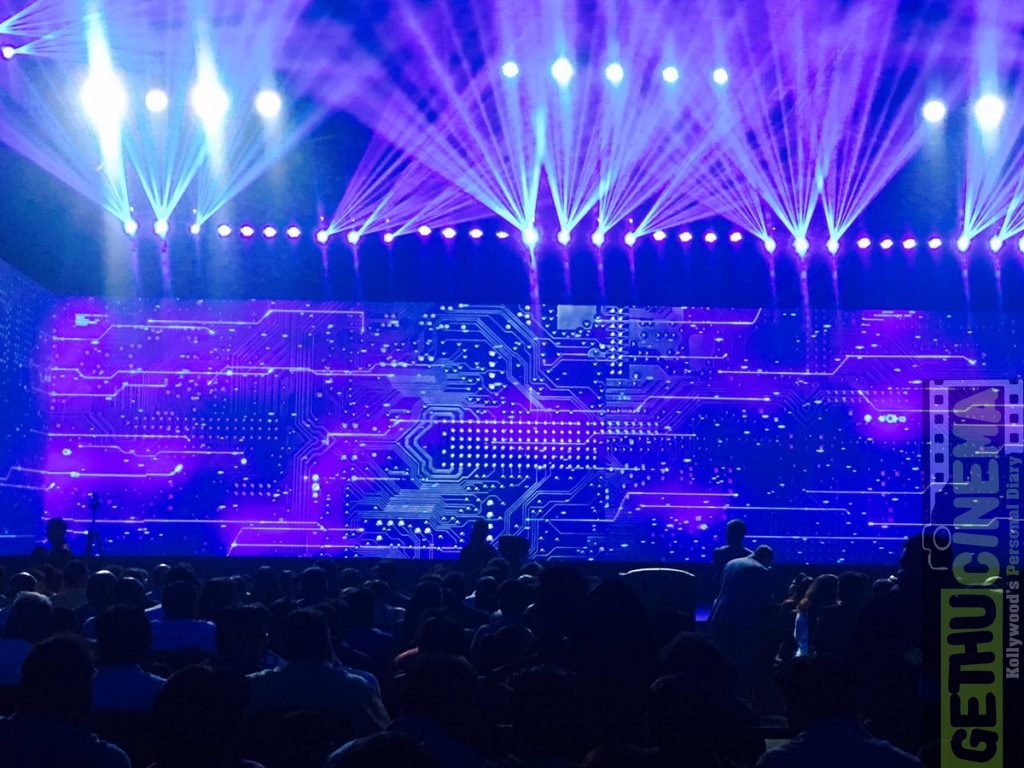 05:20 PM –  Fans outside the Auditorium chanting Superstar's name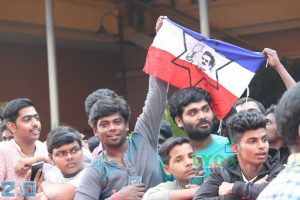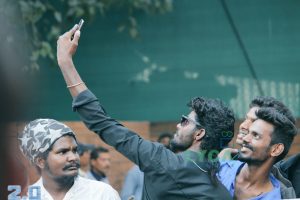 05:40PM : Superstar Rajinikanth, Director Shankar, A.R.Rahman, arrive at the audio launch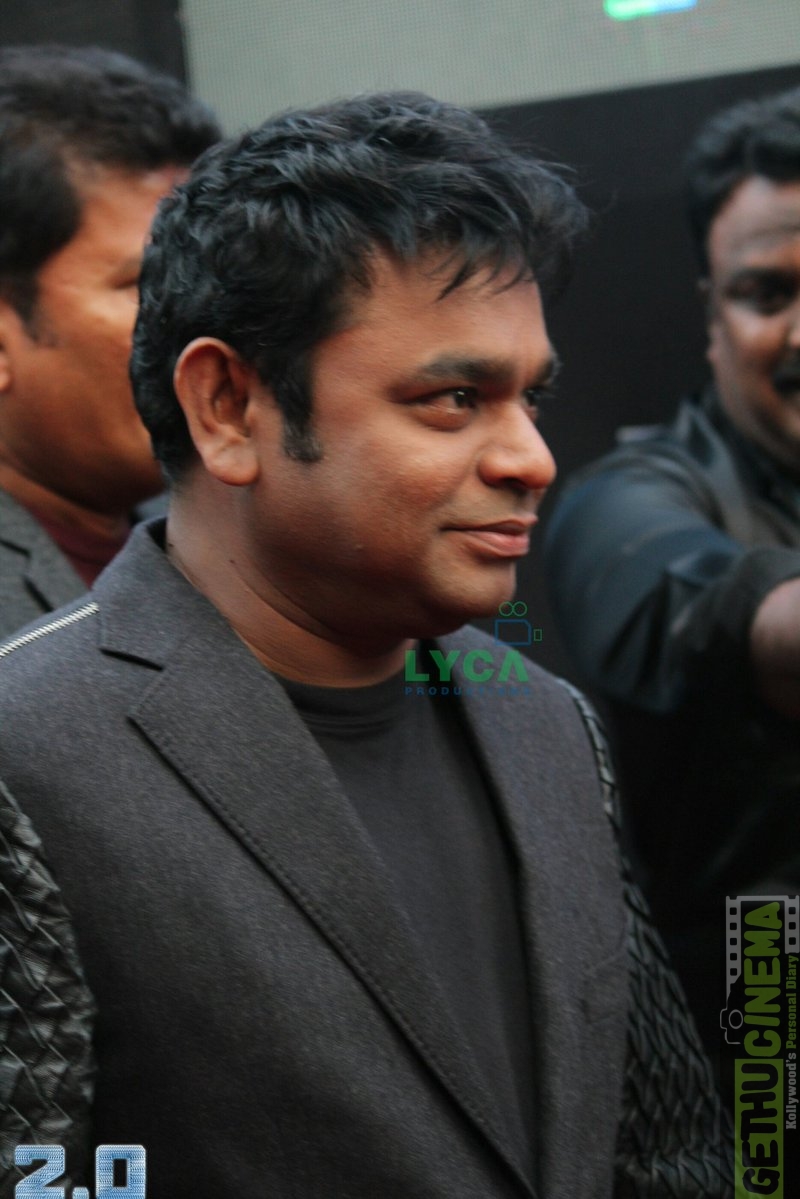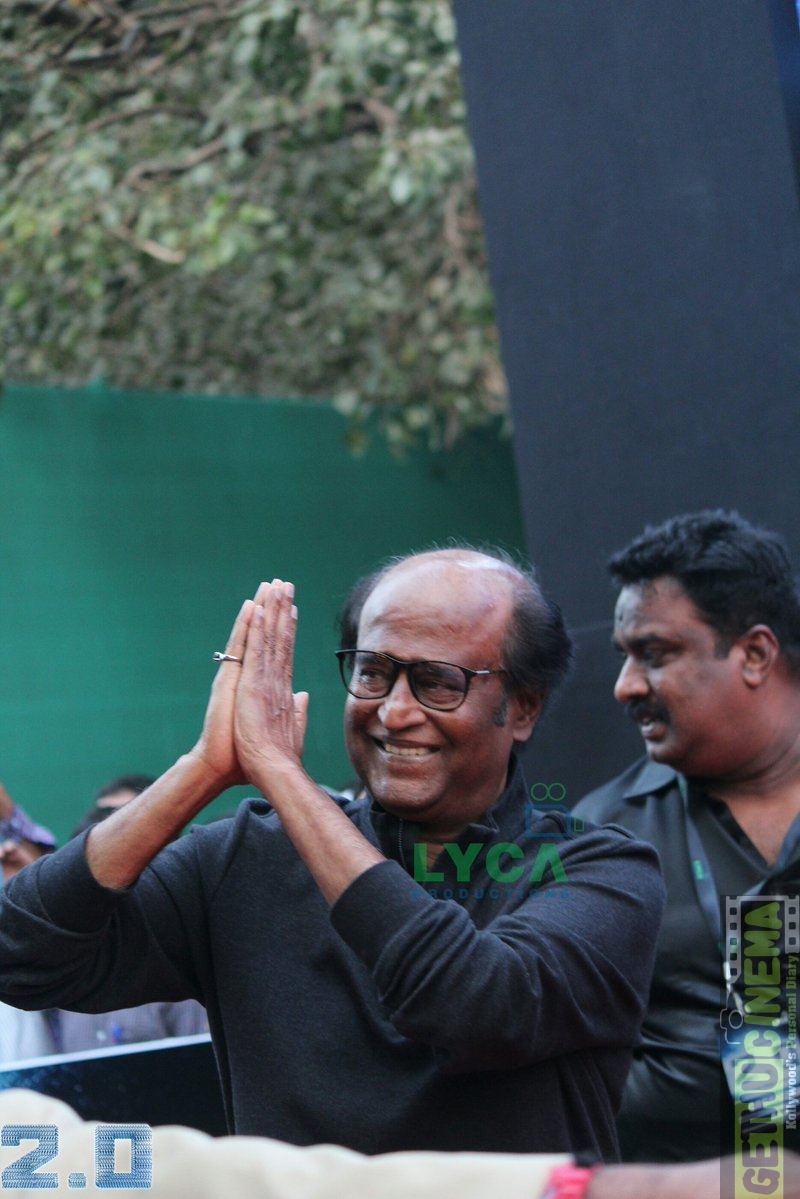 05:45PM – Entire 2.0 Team poses for the shutterbugs at the Red Carpet.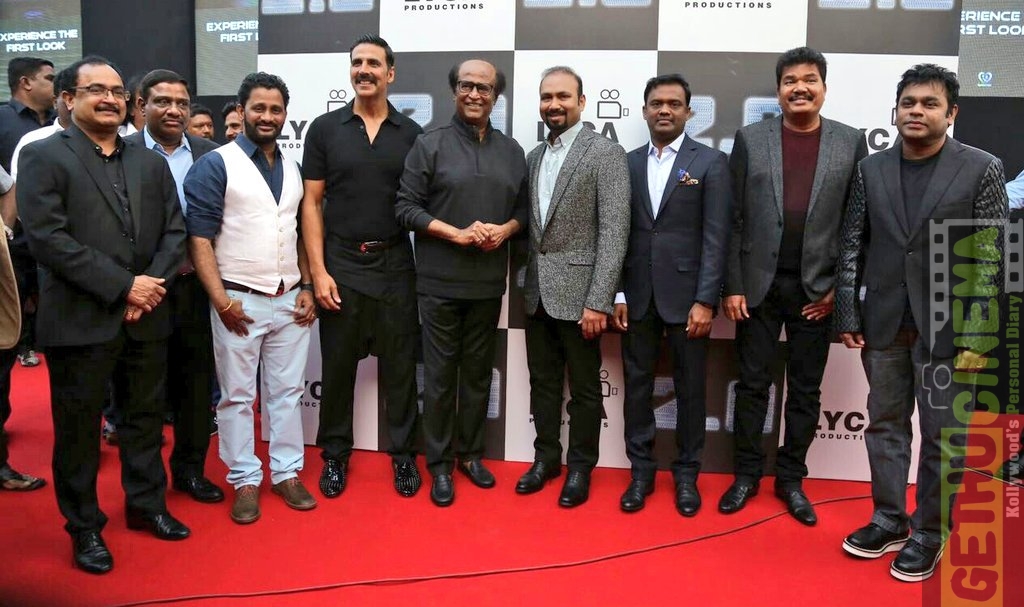 Akshay Kumar and Resul Pookutty have joined the other dignitaries at the red carpet.
05:51PM – Amy Jackson signs the camera on the red carpet./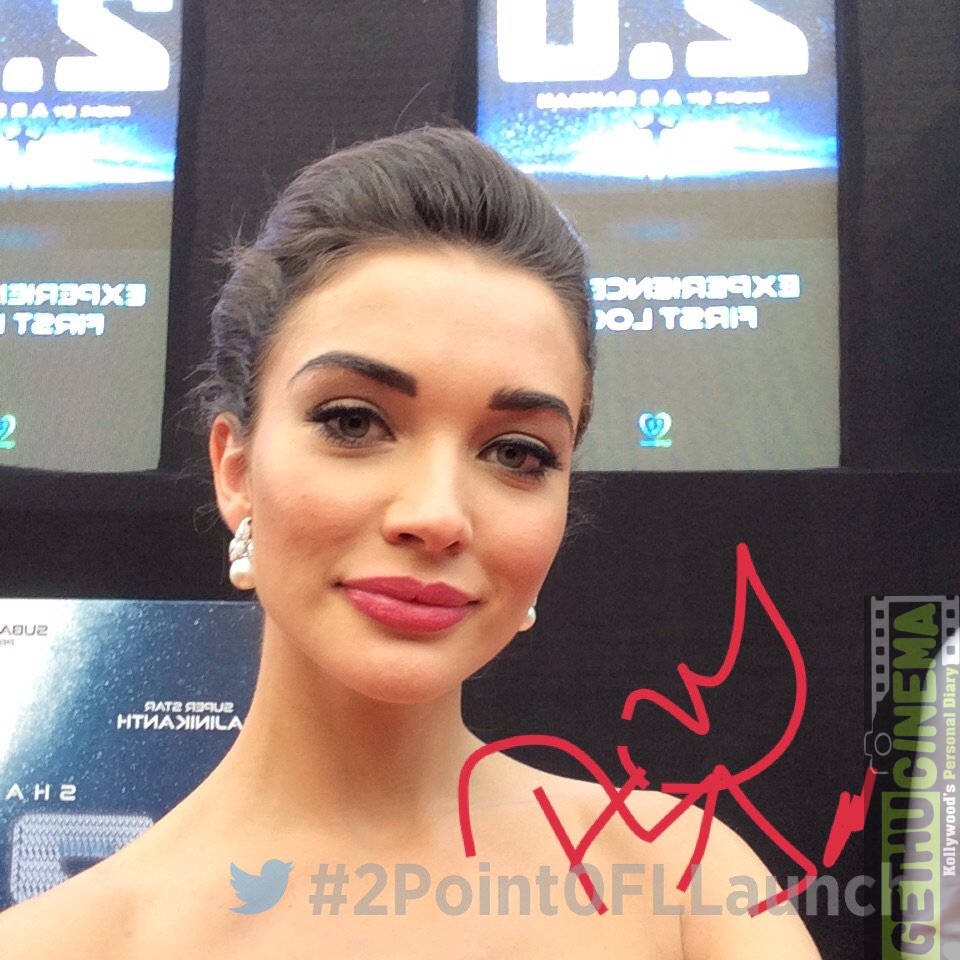 05:53 PM – Karan Johar signs the camera and gets on stage to host the show.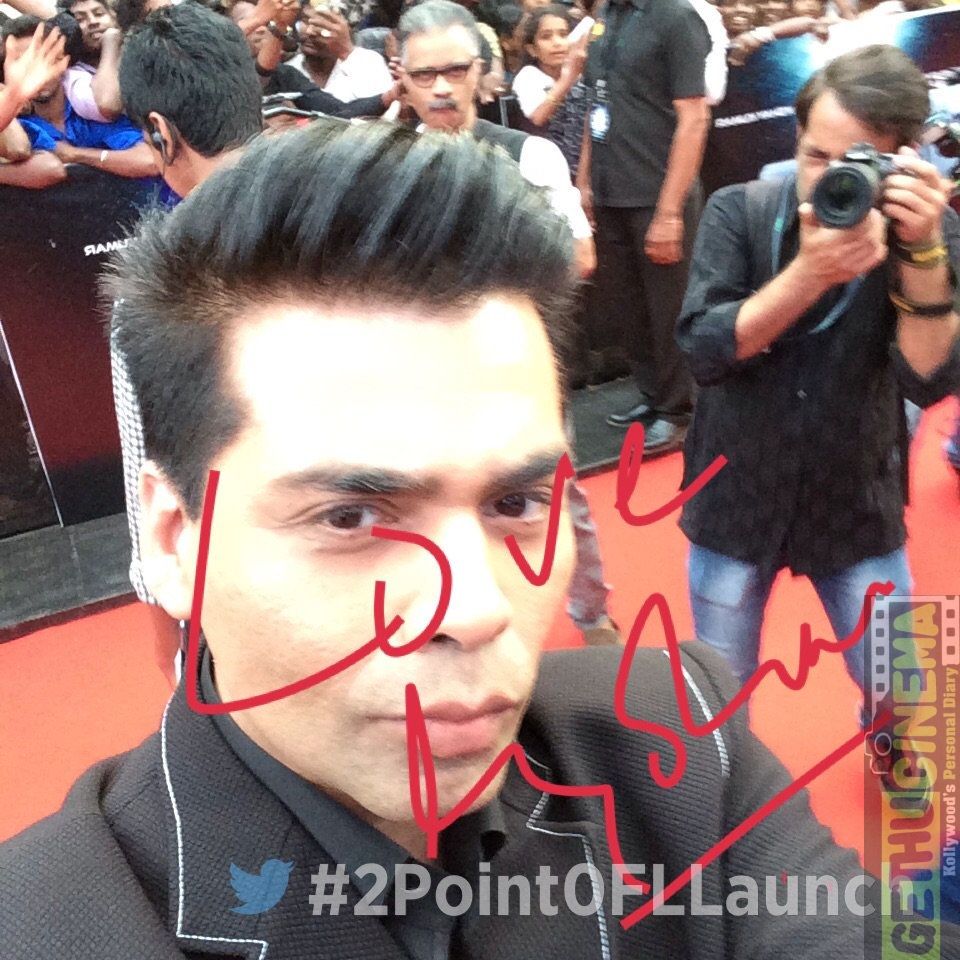 05: 57PM- Other photos of Amy Jackson, Karan Johar , Shankar and Akshay Kumar in the red carpet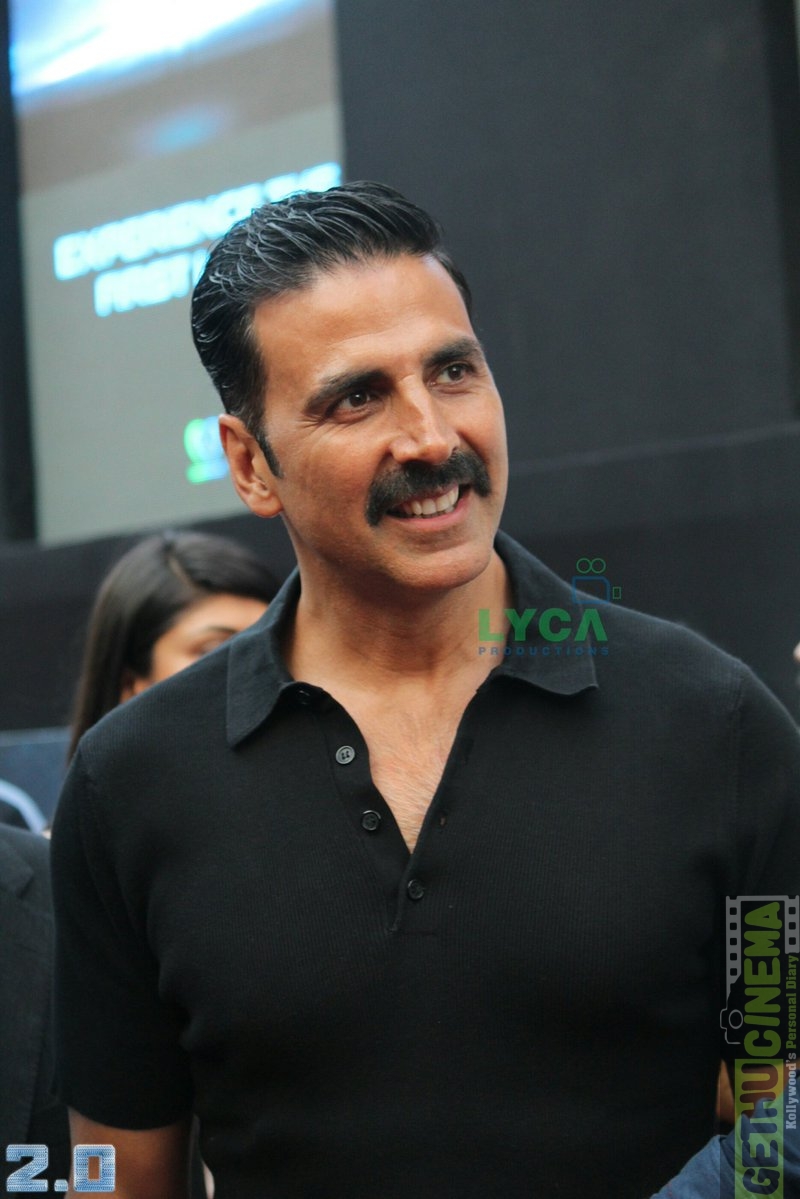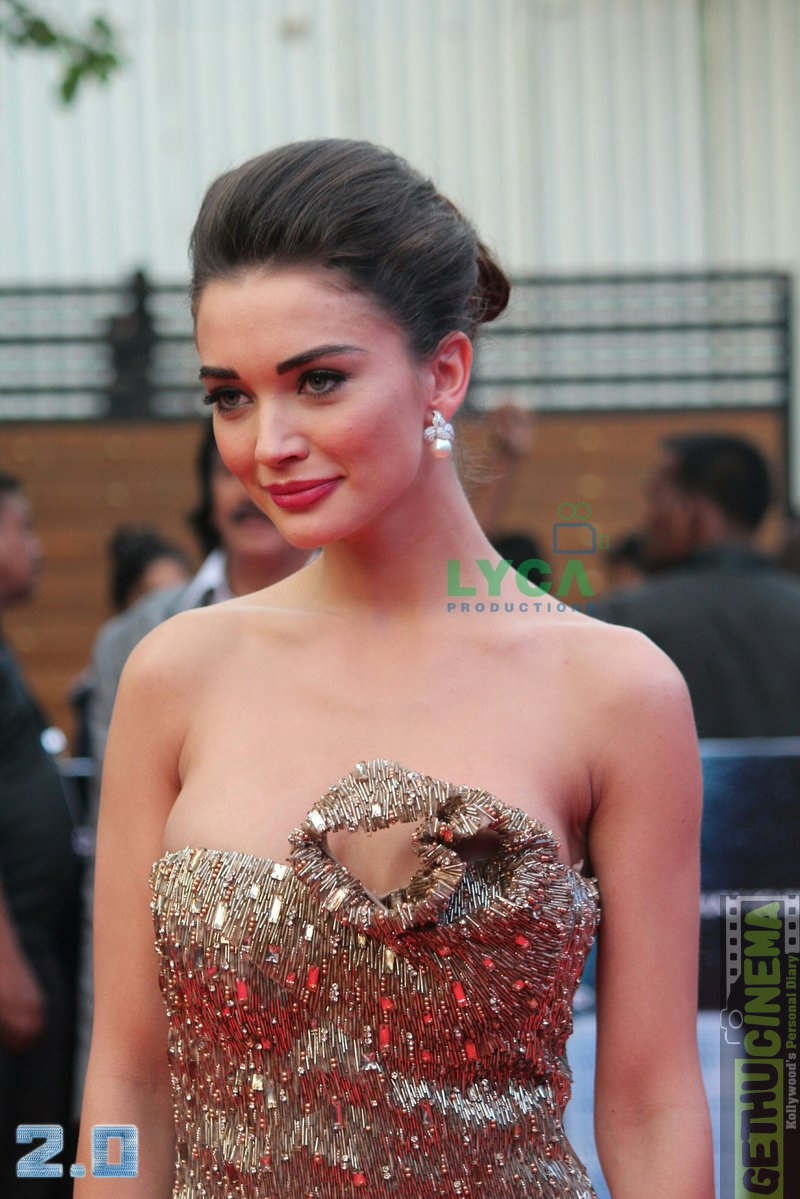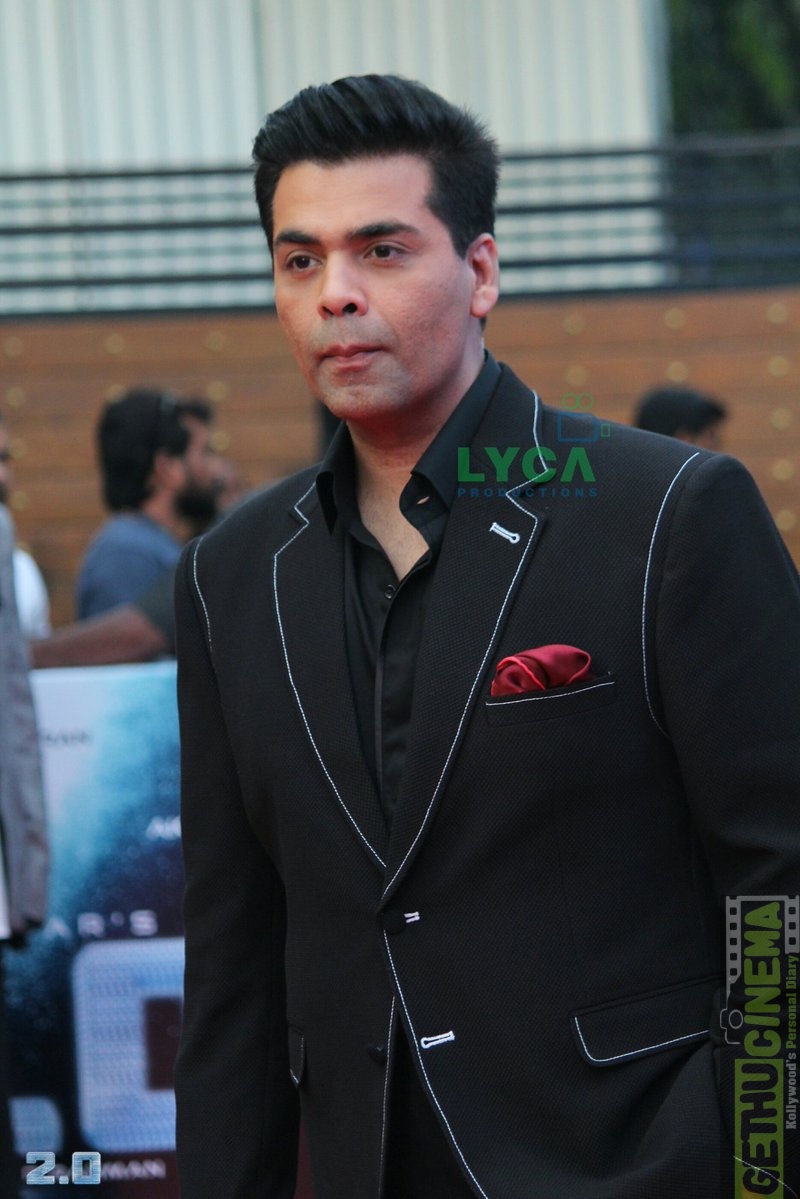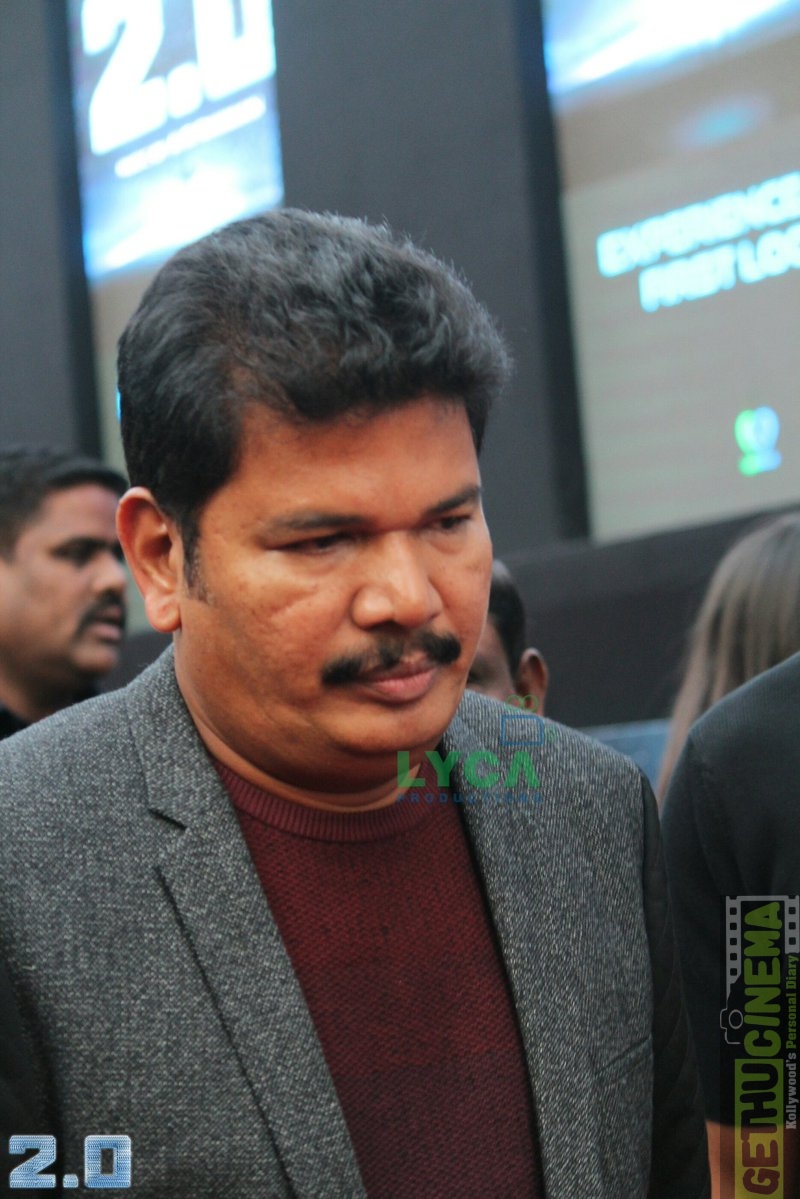 06:00PM – Latha Rajinikanth arrives at the occasion.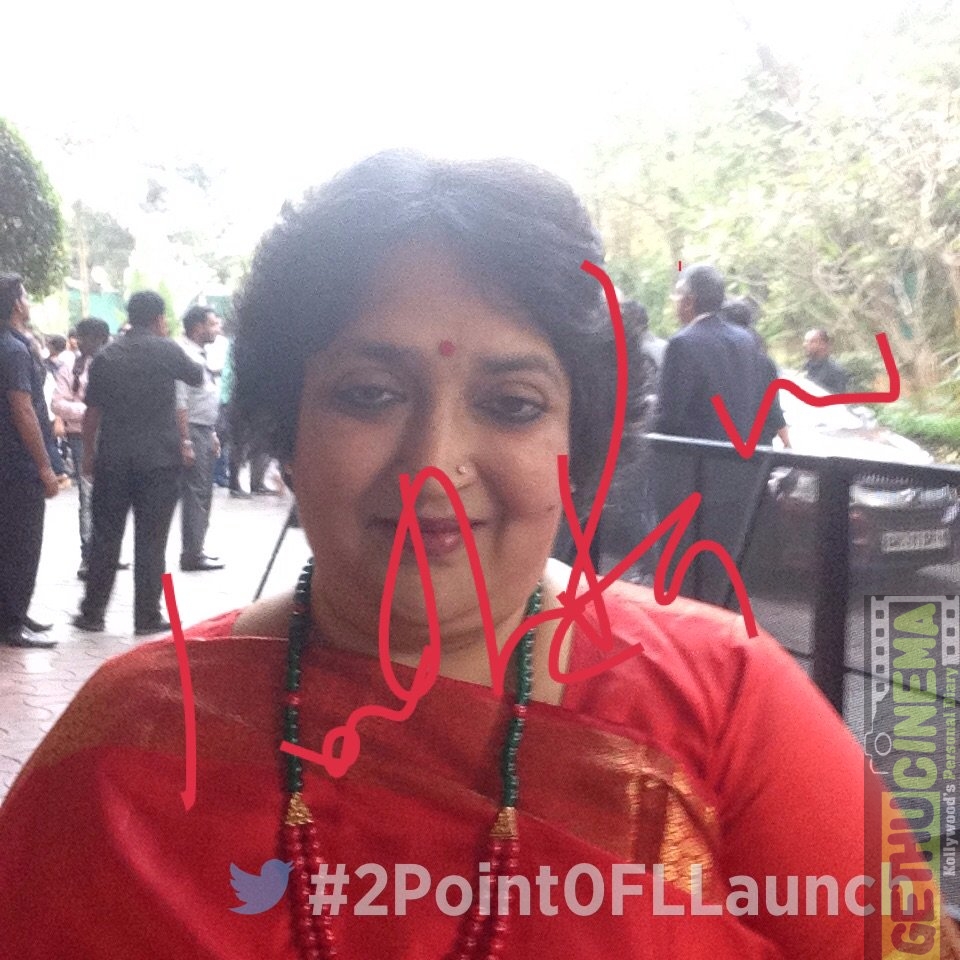 06:05PM –  Madan Karky was on stage shares his experience of working with shankar and Rahman's tunes. He says that Shankar
"Shankar thinks out of the box and he wants our works to be out of the box as well, he never goes with the generic work", says Madan Karky.
Resul Pookutty on stage he says he had to introduce a new sound editing technique for 2.0. This would be first of its kind in the world says the oscar award winning sound engineer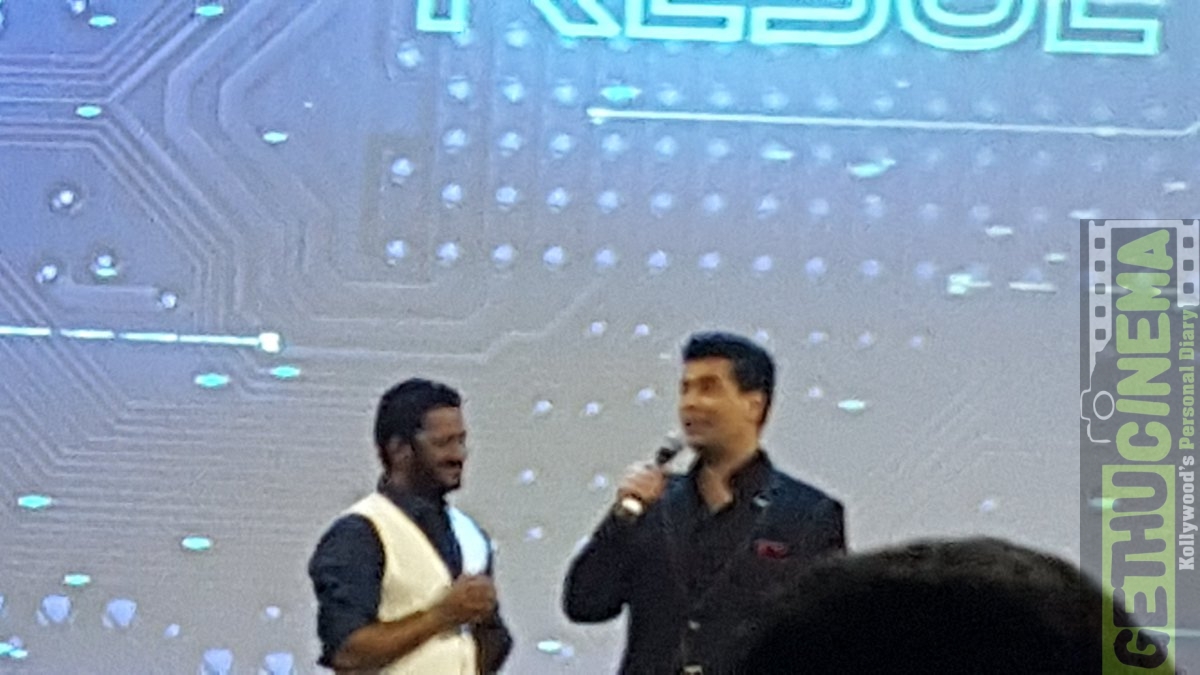 06:10PM – Karan Johar hosts the show and interviews editor Antony. he says he had to wear 3D glasses while editing the movie 2.0
Dignitaries share their experiences on stage with the host.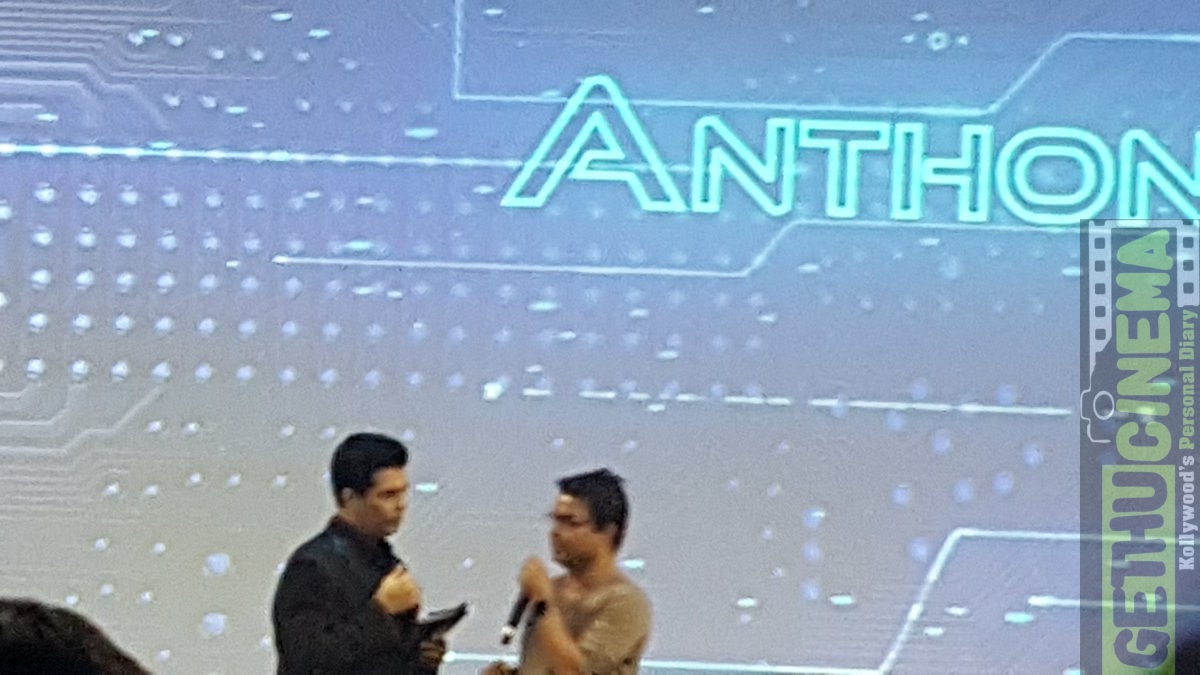 06:13PM –  Amy on stage shares her excitement of working with Superstar and of working with Shankar once again.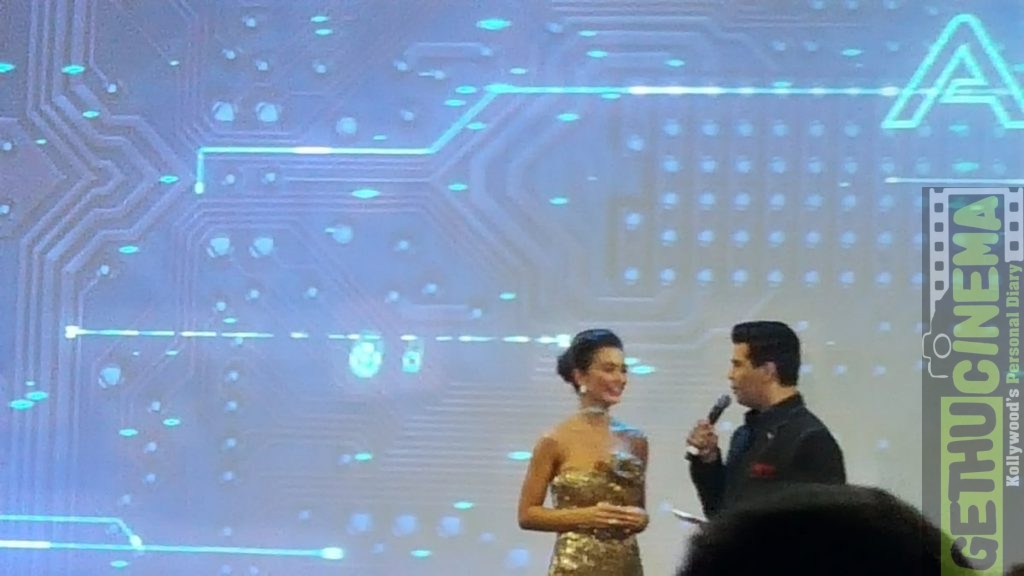 06:15PM –  Rajinikanth on stage and the crowd goes mad. Karan johar bows before Thalaivar out of respect.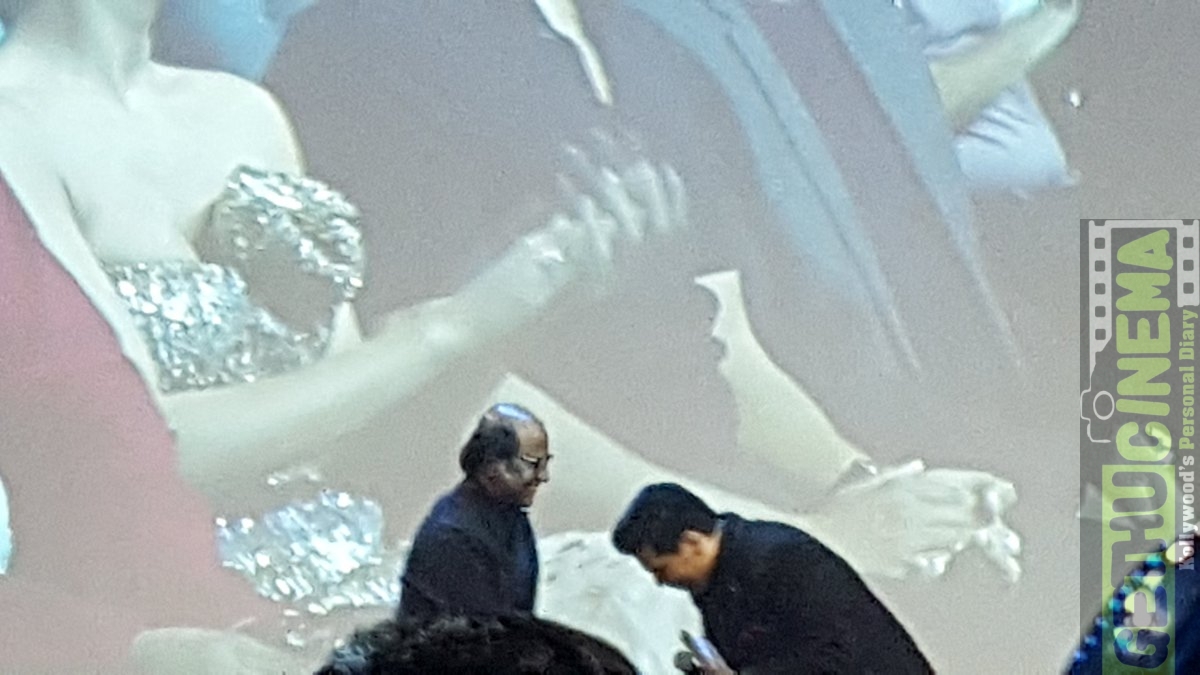 Rajinikanth says it is very difficult for him to act in 2.0 because Shankar is a perfectionist.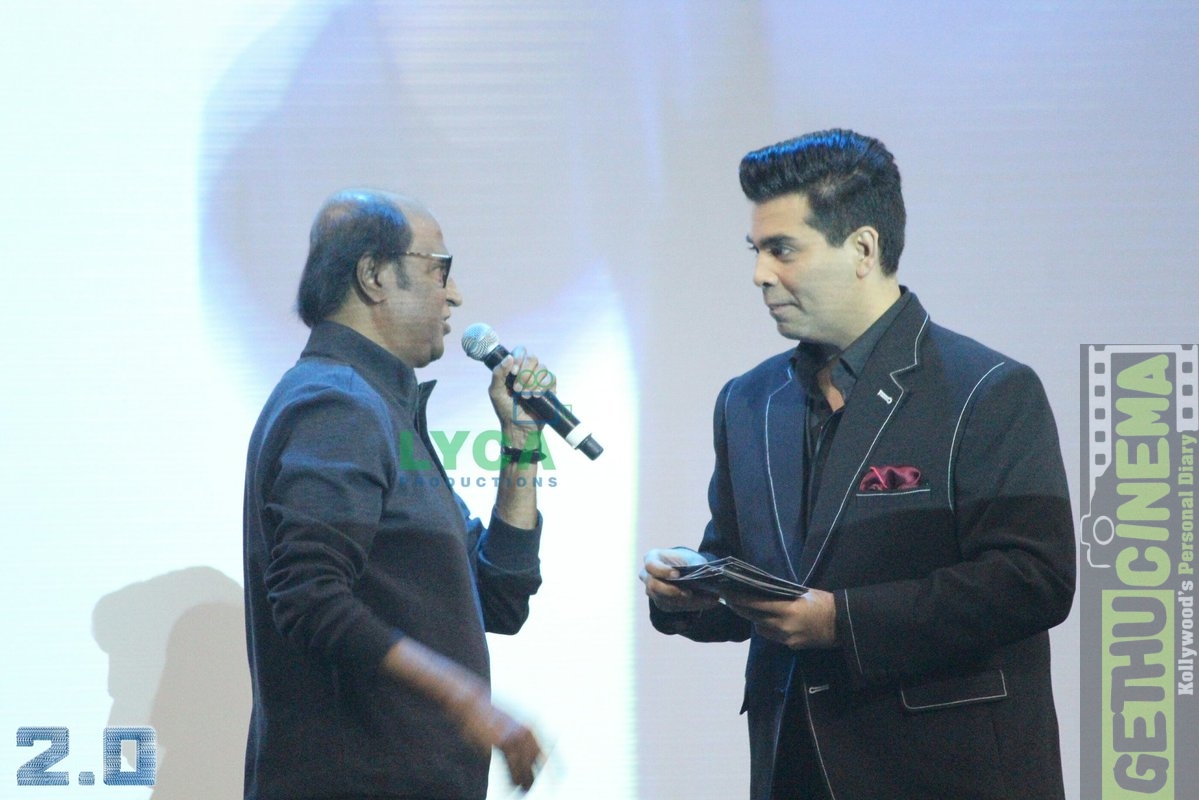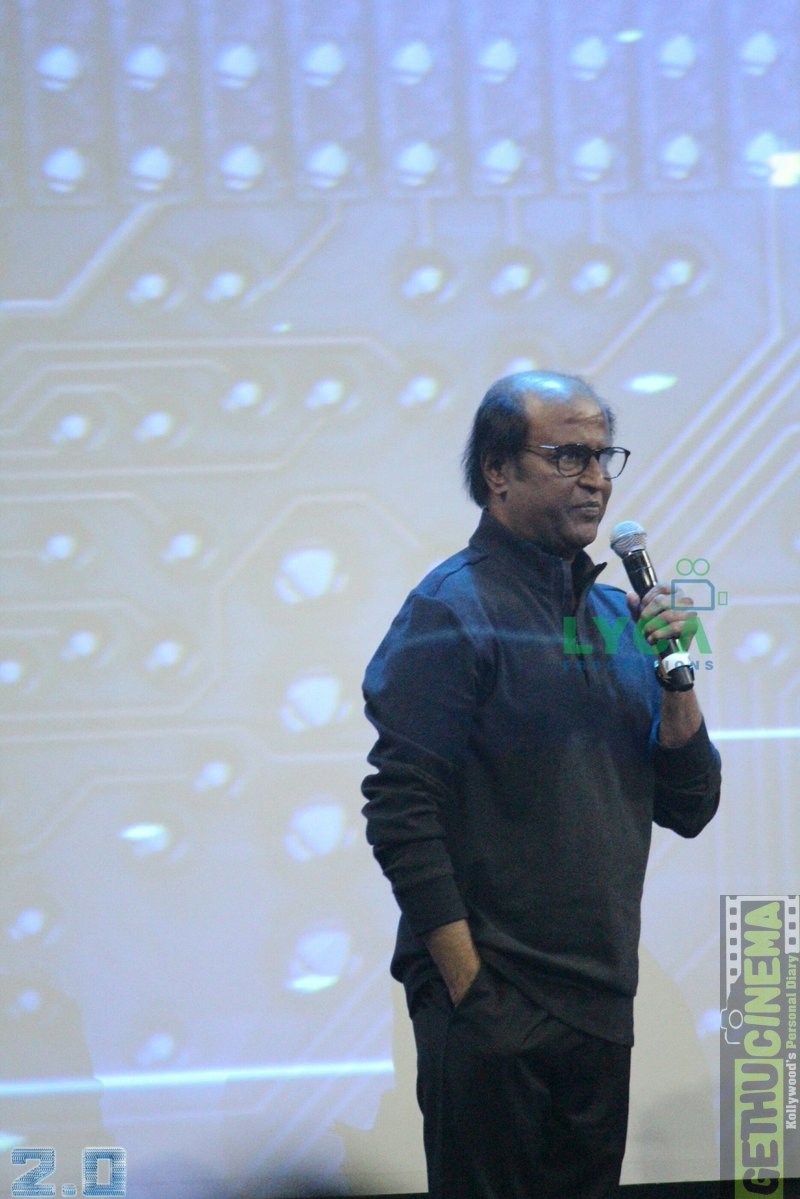 06:20PM –  Rahman on stage says 2.0 is his most difficult movie in his filmography.
06:25PM – FIRST LOOK IS BEING SCREENED IN 3D
06:30PM –  Question and Answer session with the makers of the movie,
Shankar , Rajinikanth , Akshay Kumar, A.R.Rahman, Lyca Productions CEO Subaskaran, and Resul Pookutty answers questions on stage.
Producer Subaskaran says when he heard the story , he liked it very much and agreed to produce the movie right away.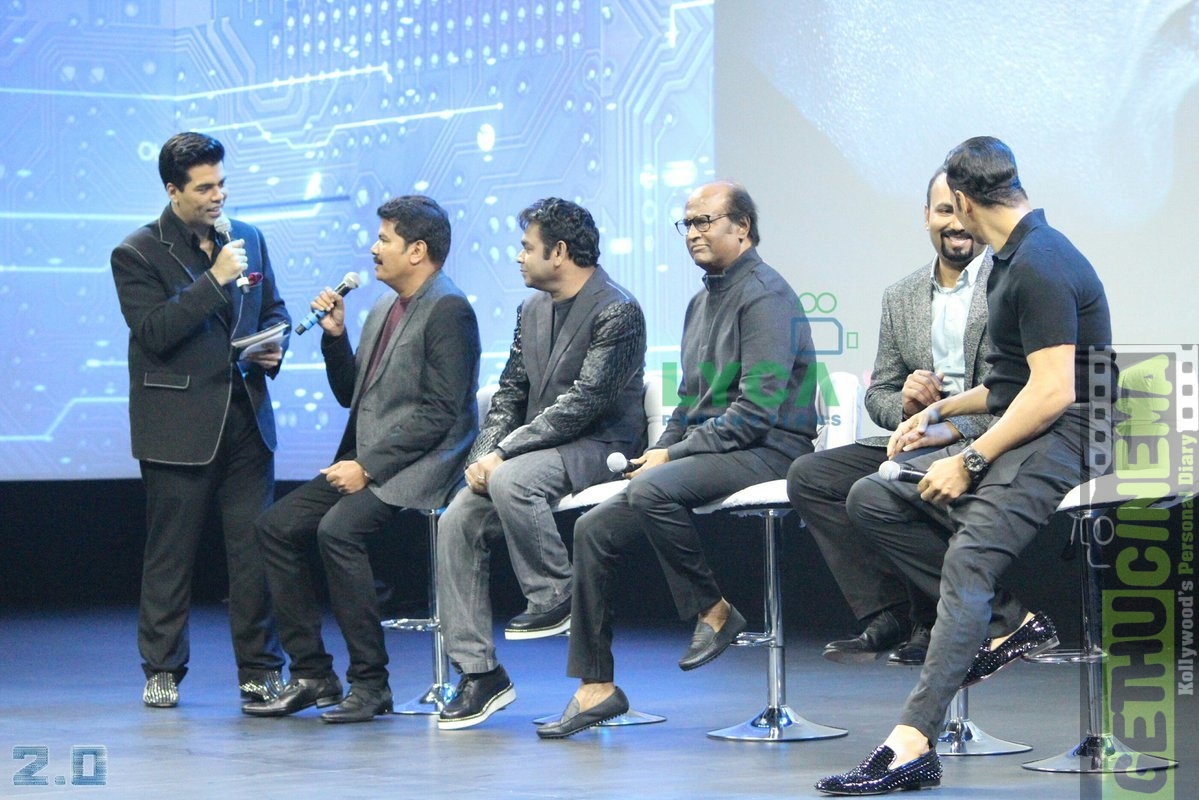 06:40 PM –  Salman Khan graces the red carpet.
06:41 PM –  2.0 is sure to create history in Indian Cinema, says Akshay Kumar.
2.0 has 3D, the hero of the movie is Akshay Kumar, not me says Super star Rajinikanth.
06:45PM –  " When I came to know that Superstar is here, I came uninvited, just to meet him" , says Salman Khan on stage.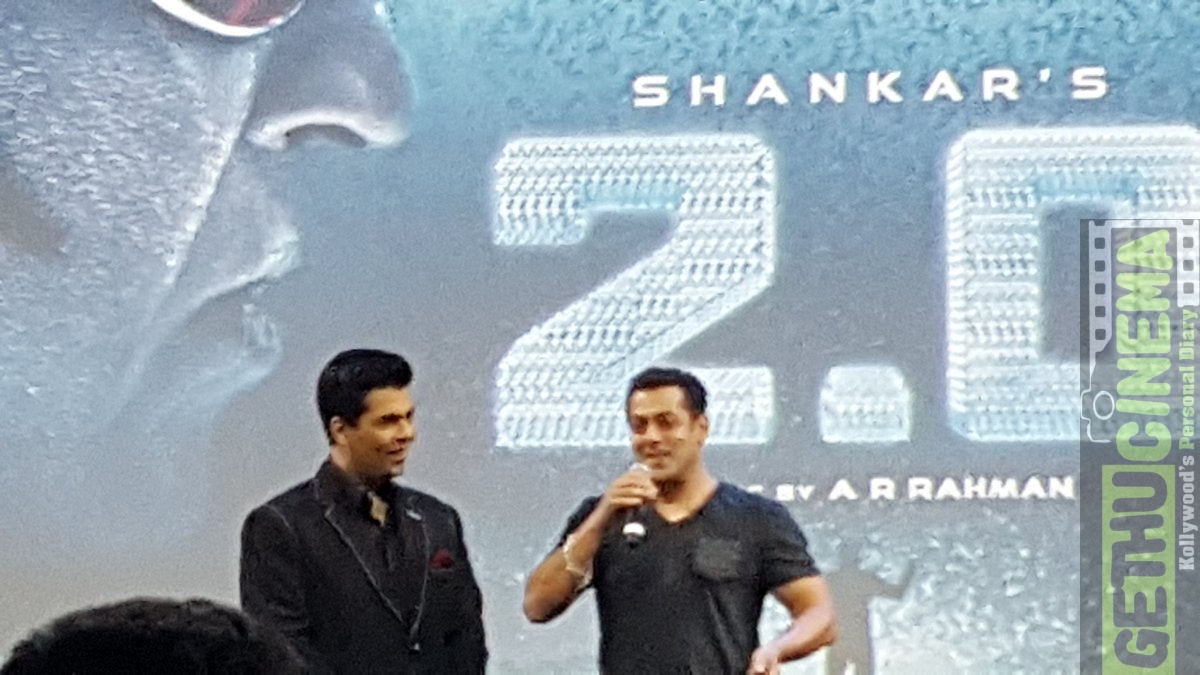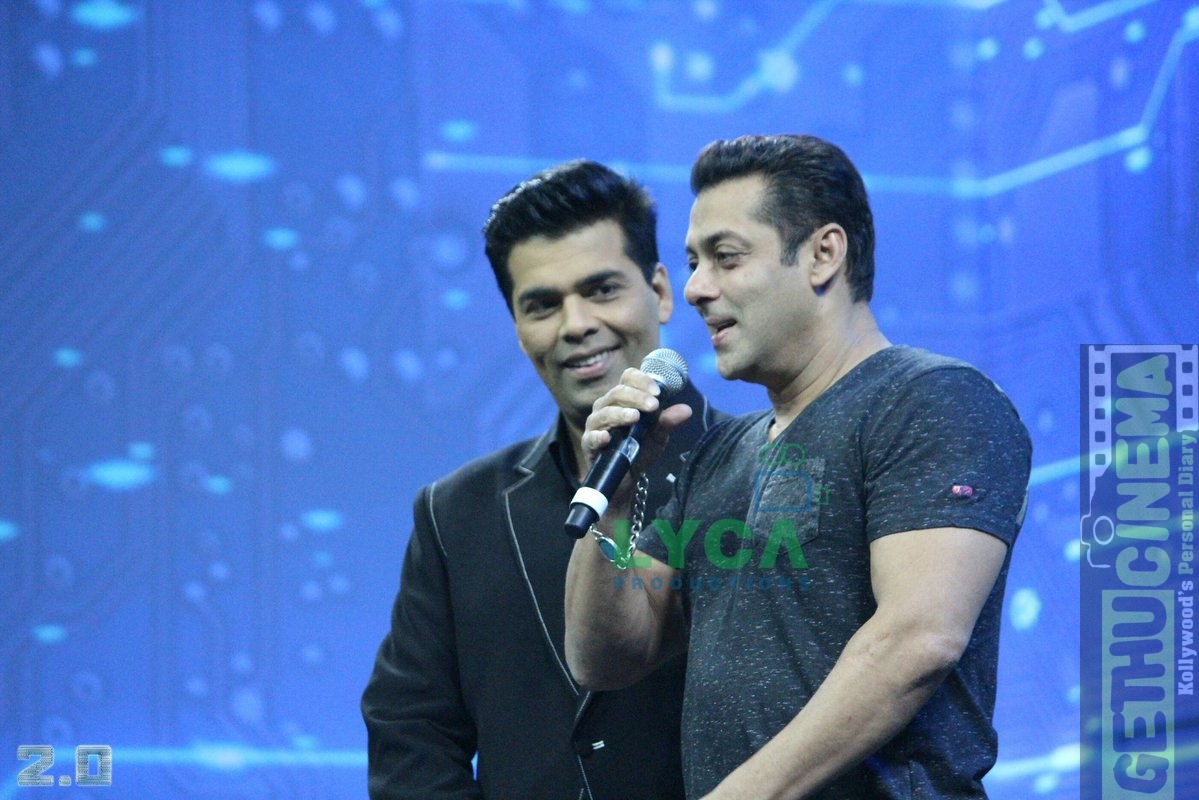 Salman Khan poses along with 2.0 team for Shutter bugs
Few more clicks with Sallu Bhai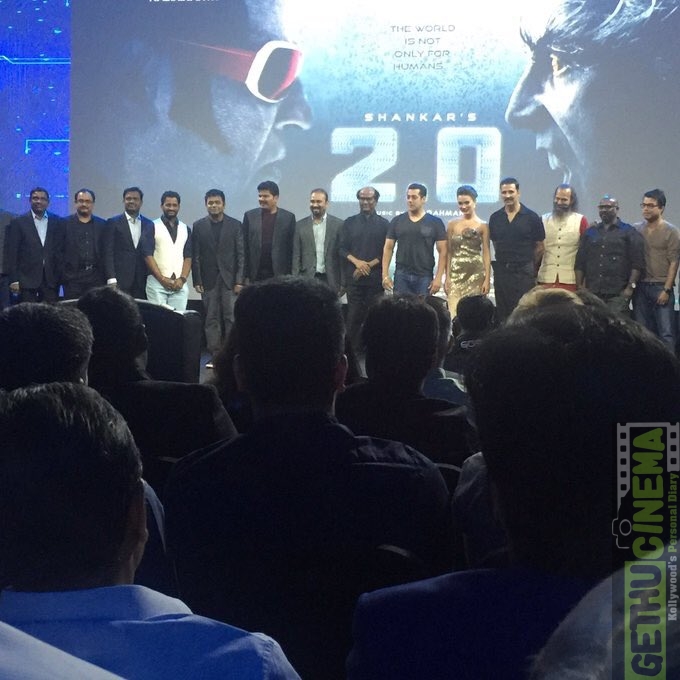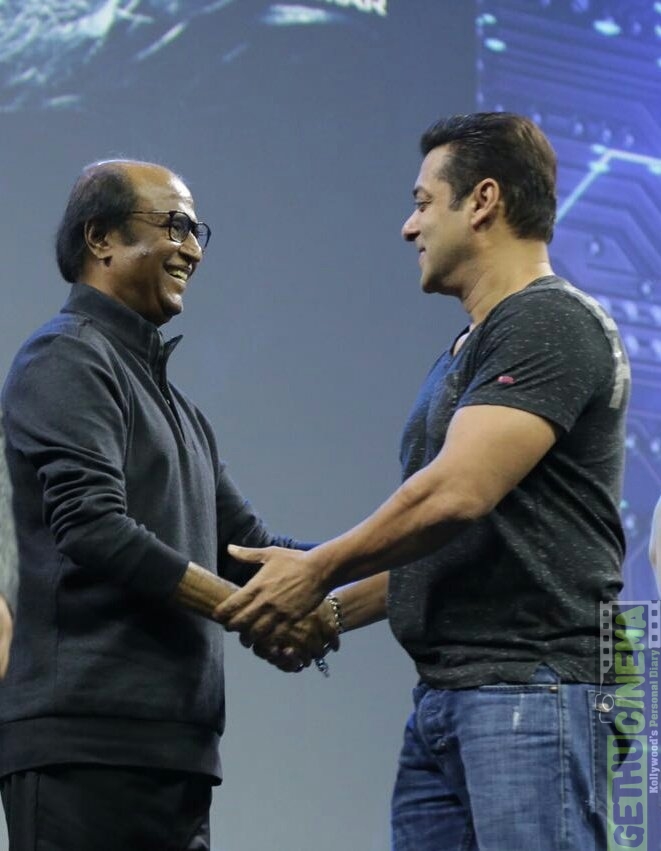 If Salmaan says yes, I am glad to start a movie with him even tomorrow, says Superstar.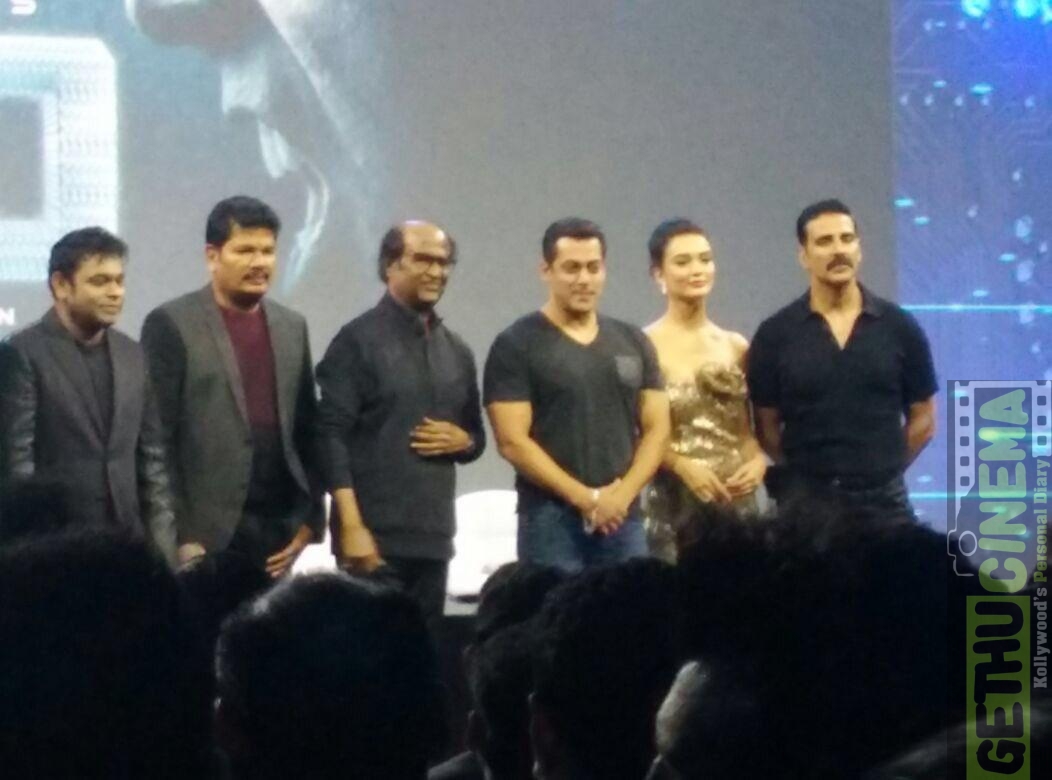 06:58PM – Promo Teaser of 2.0 is being played in 3D.
07:00PM –  Shankar breaks the surprise that there will be a third part in Endhiran series.
More pics of the superstars together .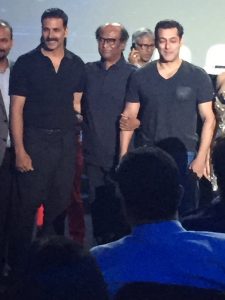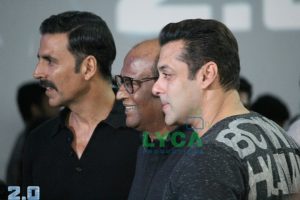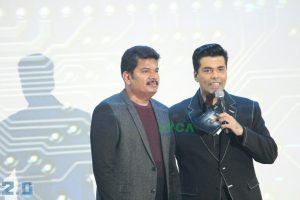 07:00PM Most expected First look is here.