Superstar Rajinikanth wrote to Tamils in Srilanka after his cancellation created quite an uproar in the island country. Rajinikanth was invited to hand over the keys of newly built houses to displaced Tamils in the country.
After his plans to visit Sri Lanka made it to news, politicians from Tamil Nadu opposed the actor's decision. The actor then decided to call off the visit. He stated that "I am cancelling the trip, although I don't agree with the reasons stated by Thirumavalavan and Vaiko"
Little later after the cancellation of Rajinikanth's trip surfaced the news, the fans of the actor from the island country started protesting against the decision.
After witnessing the protests by the fans through media, the actor wrote a letter to the fans thanking them for the love and promised to meet them when time is right.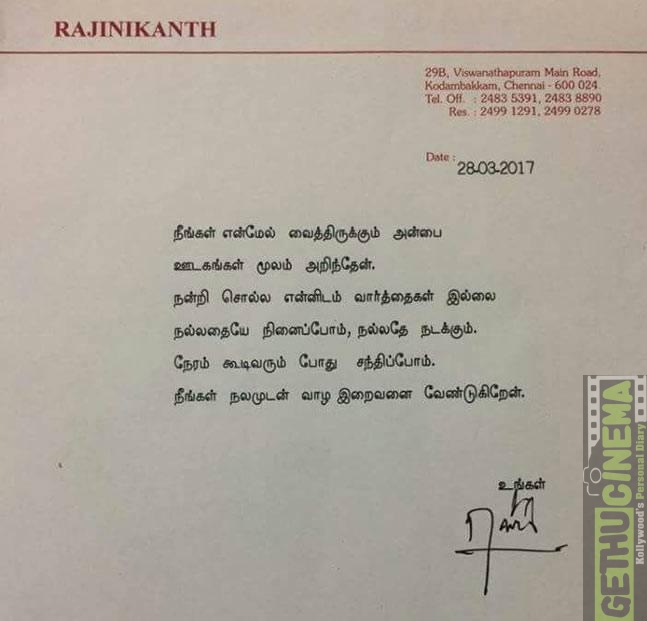 Excerpts from his letter are "I came to know about the love you have for me through media. I have no words to thank you all for the love and affection. Let us believe good things will happen. Let good things happen. When time is right we will meet. I pray almighty for your well-being"
The actor his currently summing up his schedule for 2.0, the sequel to the 2010 blockbuster Endhiran under Shankar's direction. The movie is produced by Lyca Productions with music being handled by A.R.Rahman.
The function that Rajinikanth was supposed to attend was organized by Gnanam foundations, a non profitable organization run by Subhaskaran of Lyca Productions.